Why 4 'Game of Thrones' spinoffs is a bad idea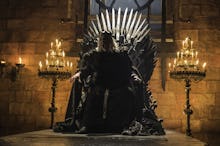 Count me among the millions of fans who will be deeply saddened when the final episode of Game of Thrones airs, ostensibly in 2018. The series — while not without its faults — boasts complex characters, some of TV's most effective world-building and plenty of genuinely unexpected twists. It's made a convincing case that shows in the realm of fantasy can be huge hits with fans and critics alike. Its influence is everywhere — just take a look at Starz (American Gods, Outlander), Syfy (The Magicians) and NBC (tragically, Emerald City).
But even the most diehard Thrones fans probably don't want to see the world of Westeros reduced to nothing more than a blatant cash grab, which now appears to be HBO's plan. According to a report from Entertainment Weekly, the network is pursuing as many as four possible GoT spinoffs once the series ends its eight-season run. George R.R. Martin, the author behind the source material, is apparently involved with two of the projects, while Thrones showrunners David Benioff and D.B. Weiss would be executive producers on all four of the spinoffs. The potential followups would, per EW, "explore different time periods of George R.R. Martin's vast and rich universe." That's a fancy way of saying: Expect prequels, supporting characters spun into leads and perhaps even a continuation of the original show's main story. 
No one should be surprised to hear that HBO is looking to keep the GoT universe alive. They've talked about doing this before, and we've even suggested four possible spinoffs for them (our fingers are still crossed for The Adventures of Lyanna Mormont) — but we were just floating some ideas, not actually asking for four new successors. Has HBO learned nothing about the cost of greed from how this very unforgiving show handles such hubris? 
Good spinoffs are already an exceedingly rare breed; the only current TV spinoff worth a damn is AMC's Better Call Saul. But AMC took some time after Breaking Bad ended before throwing a spotlight on the crime drama's shady lawyer. Further, we weren't also looking at a Gus Fring spinoff, a Todd prequel and a continuation of Aaron Paul's Jesse Pinkman (granted, however, Need For Speed filled that last niche). At the very least, one compelling Game of Thrones spinoff feels more plausible than four, which runs the risk of stretching the show's premise too thin. 
This isn't to say that a Thrones spinoff would fail or that we wouldn't watch — just that HBO shouldn't feel obligated to book an extended stay in Westeros. Westworld made a compelling case as a Game of Thrones equivalent for science-fiction. Big Little Lies was such an effective miniseries that fans are begging for a follow-up (also, please don't!). And while The Leftovers isn't a ratings powerhouse, it's one of the best dramas on television. 
HBO shouldn't be afraid to move on from Thrones. They've made award-winning dramas before the series, and they can do so again after 2018. It doesn't hurt to try something different and take a risk. That's exactly what Game of Thrones was back in 2011. 
Mic has ongoing Game of Thrones coverage. Follow our main Game of Thrones hub here.