'NBA Playgrounds' release date and DLC confirmed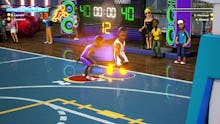 Per an information release provided to Mic by Saber Interactive, NBA Playgrounds will be released May 9 for PlayStation 4, XBox One, Nintendo Switch and PC.
We've talked extensively about some of the features and the roster for the upcoming game, but the final piece of pre-release information is associated with the postrelease content.
According to Saber Interactive, hundreds of more players will be released in postrelease updates.
The game features two-on-two action, but the roster is packed with enough legends to make a game like NBA 2K17 a little envious.
Some of the released screenshots and leaked beta gameplay have featured legends like Magic Johnson, Shaquille O'Neal and Allen Iverson. Those players are in NBA 2K17, but others such as Billy Cunningham and George Mikan are not.
If the gameplay is as addictive as the throwback hoops titles (NBA Jam and NBA Street) it pays homage to, NBA Playgrounds could be one of the most popular sports video games released in 2017.
It will retail for $19.99 and be available as a digital download only.
More sports gaming news and updates
Love sports games? Check out more content from Mic, including tips for leveling up your NBA 2K17 MyPlayer, playing quarterback in Madden 17, our review of MLB The Show 17 and the classic Nintendo sports games we want to see on the Switch.