The Justice Department is investigating Uber for using software to evade local authorities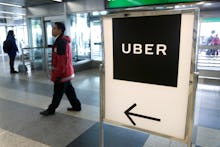 The bad press keeps coming for Uber. According to a report from Reuters, the Justice Department is currently investigating the company over its illegal use of a software tool that has allowed its drivers to evade transportation regulators. 
The software, called Greyball, helped Uber drivers avoid government regulators in areas where the driving service had yet to be approved (the Reuters story cites Portland, Oregon, as one example). In a previous report from the New York Times, the company confirmed its usage of Greyball but said that it was largely used to protect its drivers. 
"This program denies ride requests to users who are violating our terms of service — whether that's people aiming to physically harm drivers, competitors looking to disrupt our operations or opponents who collude with officials on secret 'stings' meant to entrap drivers," the company said in a statement provided to the Times in March. 
The Justice Department investigation is just the latest in a series of bad press for the company. In April, ArsTechnica reported that a class-action lawsuit was filed against the app for manipulating navigation data for its drivers and passengers. "The software that calculates the upfront price that is displayed and charged to the users calculates the expected distance and time utilizing a route that is often longer in both distance and time to the one displayed in the driver's application," the suit reads. Moreover, in February, a blog post from a former Uber employee, Susan J. Fowler, described incriminating instances of sexism at the company. 
According to Reuters, the investigation is still in its early stages, and it's currently "unclear" if anyone will be charged.