Eerie: 'The Handmaid's Tale' references hit Twitter following GOP health care bill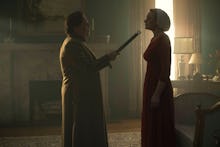 Hulu's chilling new drama the Handmaid's Tale feels especially relevant as it airs during the Trump administration, but perhaps more so now that House Republicans passed a bill that would repeal the Affordable Care Act. The replacement bill, which will now move onto the Senate, has a litany of problems, including an amendment that could potentially classify sexual assault as a pre-existing condition. 
So yes, a series about a dystopian future where traditional democracy has been overthrown by a group of Christian fundamentalists who strip women of basic human rights — including not being allowed to read, hold a job and if you're a Handmaid, keep your own name — feels eerily prescient in the wake of this controversial bill. 
Opponents of the GOP's health care replacement quickly took to Twitter to point out the unsettling similarities between the current political climate in the United States and the Handmaid's Tale's fictitious Republic of Gilead. 
Mic has ongoing coverage of The Handmaid's Tale. Follow our main Handmaid's Tale hub here.