Republicans who voted for Trumpcare admit they didn't even read the bill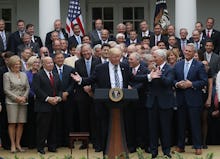 House Republicans barely passed the American Health Care Act on Thursday — a health care law that is likely to kick 24 million people off insurance, raise costs for the sick and elderly and endanger protections for Americans with pre-existing conditions.
Yet, despite the sweeping impact the bill could have on millions of Americans if passed into law, many House Republicans didn't even read the bill's text before casting their votes.
That's according to two members of Congress, who gave public interviews Thursday evening on cable news.
Rep. Chris Collins (R-N.Y.), an early supporter of President Donald Trump, said neither he nor many Republican lawmakers who voted for the bill actually read the text.
"I will fully admit, Wolf, I did not," Collins told CNN's Wolf Blitzer, in response to a question about whether he had read the AHCA before his vote. "But I can also assure you my staff did. We have to rely on our staff."
Collins added that other Republicans also didn't read the bill.
"I can probably tell you that I read every word, and I wouldn't be telling you the truth, nor would any other member," Collins said. "We rely on our staff and we rely on our committees. I'm comfortable that I understand this bill in its entirety, Wolf, without poring through every word. I'm just being quite honest, that's the way it is."
The problem for Collins is that his staff didn't seem to read the bill very well, as Collins said he was unaware that the AHCA would have a negative impact on thousands of his own constituents.  
That's because the bill would cut funding to a program unique to his state and Minnesota that provides affordable insurance to low- and middle-class residents who make too much to qualify for Medicaid, according to the Buffalo News.
When the Buffalo News asked Collins if he knew about that, he replied, "No. But it doesn't surprise me for you to tell me that there were two states in the nation that were taking advantage of some other waiver program and New York was one of the two states."
Rep. Thomas Garrett (R-Va.) also said he didn't read the bill, instead giving that task to his staff.
"Let's put it this way: People in my office have read all the parts of the bill," Garrett said in an interview with MSNBC on Thursday. "I don't think any individual has read the whole bill, but that's why we have staff."
Republicans attacked Democrats during the Affordable Care Act debate for not reading the bill before voting on it. House Republicans even made a pledge in 2010 to make bills public for 72 hours before they could go up for a vote, which Republicans called the "Read the Bill" rule. 
But the GOP made a mockery of that pledge before Thursday's vote, releasing the bill's text just a few hours before members voted on it.
So much for practicing what they preach.
May 5, 2017 8:45 a.m.: This article has been updated