Fox News hit with yet another gender discrimination lawsuit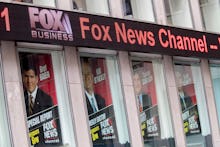 Yet another female employee is filing a suit against Fox News.
Since 2008, Jessica Golloher has reported on the Middle East and North Africa for Fox News Radio. But according to the Los Angeles Times, the correspondent filed a suit Thursday against the embattled media organization, saying she was terminated after contacting a lawyer about gender discrimination at the company.
"[The] Defendants' decision to terminate Ms. Golloher is a transparent act of retaliation and a clear attempt to silence yet another victim of discrimination at Fox," the suit states.
Fox allegedly "marginalized" Golloher based on her gender in her time there; in once instance, included in the suit, she says she was asked to serve as "an assistant" to a less experienced male colleague while covering the Sochi Olympics in 2014. Golloher was also "the subject of countless sexist comments and has borne witness to boorish comments regarding other female employees," according to the suit.
The new lawsuit comes days after the firing of Fox News co-president Bill Shine amid an ongoing sexual harassment scandal that also took down the network's signature host, Bill O'Reilly. Host Sean Hannity had previously warned that Shine's ouster would represent the end of the channel "as we know it."
Fox News called Golloher's allegations "baseless" and vowed to fight against them.
"Her allegations of discrimination and retaliation are baseless," a Fox representative said in a statement. "We will vigorously defend the matter."