Alexis Bledel is giving the performance of her career in 'The Handmaid's Tale'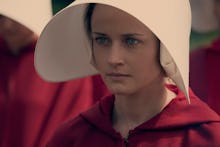 The cast of The Handmaid's Tale reads like a massive multiplayer crossover of different prestige TV series. Elisabeth Moss, the Hulu series' lead, got rave reviews for her performance in AMC's Mad Men; Samira Wiley previously starred on Orange Is the New Black; Joseph Fiennes appeared in American Horror Story: Asylum; and Ann Dowd earned kudos for her work on The Leftovers.
Among such heavyweights, someone like Alexis Bledel could have easily gotten lost. The Gilmore Girls actress, who always stood in the shadow of costar Lauren Graham, was saddled with a divisive character and rarely delivered a performance on the same level as her TV mom. When her casting in The Handmaid's Tale was first announced, the response was a mixture of intrigue and puzzlement.
But as Ofglen, a handmaid who is more than she first appears to be, Bledel is turning out some of the best work of her career. It's the kind of performance that makes you reconsider the actor's previous work — in particular, one episode of TV where we first caught glimpse of this side of Bledel.
(Editor's note: Spoilers for The Handmaid's Tale ahead.)
In the fifth season finale of Gilmore Girls, "A House is Not a Home," Bledel's Rory is at her nadir. She's just been arrested for stealing a boat with her boyfriend, Logan Huntzberger, and is feeling unsure about the path she's chosen. Her decision is to take a semester off from Yale — a choice her mother, Lorelai, rejects when the two meet for coffee.
"You leave Yale now, you'll never go back," Lorelai insists to her daughter. "You'll lose momentum." But Rory stands her ground: "Momentum toward what? All my life, I've been working toward being a journalist. I'm not going to be a journalist, so what momentum am I losing?"
It's the best kind of Gilmore Girls fight, in that neither party is totally in the right or wrong. Rory is at sea, and Bledel does a remarkable job making her choice feel appropriately gut-wrenching. That decision goes against everything Rory thought she knew about herself, and thus Bledel's performance conveys both the torture Rory feels underneath and the stubbornness she exudes on the surface.
It also helps, of course, that Graham is brilliant in the scene; the two were never better on Gilmore Girls than they were here, each firmly planted and not giving an inch. It's the equivalent of Sex and the City's renowned Carrie-Miranda fight over the former's move to Paris: a battle late in a series' run where two central characters fiercely and painfully debate one of their life choices not out of hate, but out of sincere love. Just like in that exchange, in which Sarah Jessica Parker delivered her best performance as Carrie Bradshaw, the Gilmore Girls scene revealed new depths to Bledel's talent.
Unfortunately, but understandably, that particular scene and episode became something of a distant memory in the last years of Gilmore Girls. The character quickly reverted to her more childish characteristics, never fully blooming into a grown-up version of Rory Gilmore. Her post-Gilmore Girls career didn't bring much more, either: Bledel had a short and critically panned stint on Mad Men, where she met now-husband Vincent Kartheiser but had little chemistry with him on camera. Her only other TV series before The Handmaid's Tale, Us & Them, never made it to air.
In her work on Mad Men — and other projects like Sin City and Jenny's Wedding, it seemed Bledel was reinforcing the idea that the only role should could play was Rory Gilmore. Then 2016's Gilmore Girls: A Year in the Life revival came along, and it looked like Bledel herself had even lost her hold of Rory. Where her performance in the series' original run felt, at its best, subtle and complicated, the Rory we saw in A Year in the Life seemed dull, affectless and blind to her own privilege.
So, skepticism about Bledel's turn in the dystopian Handmaid's Tale was valid — making it all the more delightful that she's so compelling in it. Ofglen is one of the most complex characters, first judged by Moss' Offred as pious and judgmental. Near the end of the premiere episode, though, Ofglen shows her cards: She's a resistor of the state, a lesbian and remarkably savvy when it comes to avoiding detection in the theocratic republic of Gilead.
In the third episode, "Late," Gilead forces take Ofglen into custody for being a "gender traitor" — in other words, for being gay and engaging in a relationship with a "Martha." Ofglen doesn't talk at all in the episode; her mouth is covered by a mask in all of her scenes. Because she's still fertile, she's sentenced to "redemption" — in other words, forced genital mutilation — by the court and is unable to speak on her own behalf. She utters a gut-wrenching howl as she watches her lover being hung to death; at the end of the episode, when she realizes she's undergone surgery, she again expresses herself the only way she can — with another loud, anguished scream.
Despite delivering not a single line of dialogue, Bledel is a wonder in "Late." Like in the Gilmore Girls episode "A House Is Not a Home," the actress communicates on multiple emotional layers at once, this time without saying a word. She's become an expressive actor first and foremost, capable of doing with only her eyes what she couldn't for so long with words. In fact, it recalls her final scene in "A House Is Not a Home," when Rory and Lorelai stare at each other after daughter betrays mother and moves away from home. Like in "Late," no words are exchanged, but the emotional weight is heavy.
Wednesday's episode of The Handmaid's Tale, "Faithful," further underlines Bledel's performance as stellar. Ofglen returns as Ofsteven — though we now know her true name is Emily — at first defeated and hollow, but it's not long until she's rising up again. She knows her fertility will keep her from death, and since watching her lover die was the worst thing she could imagine, she feels like she has nothing left to lose. So, she steals a car and kills a member of the Gilead forces. 
The thrill is not in the action, but in watching a woman Gilead tried to defeat stand against them once again. Bledel plays Emily not as joyous, but exhilarated. She breaks free of her anguish, breathless and determined.
In some way, watching Emily drive that car is like watching Bledel's career as she takes this star turn. After spending so long doing less than her best, she's found what activates her potential. Finally, Rory Gilmore has grown up.
Mic has ongoing coverage of The Handmaid's Tale. Follow our main Handmaid's Tale hub.