Navigating Trump's America: The AHCA is dead on arrival in the Senate. What happens next?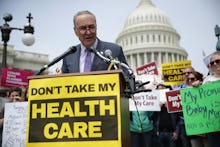 You know the Republican health care plan passed the House, securing one more vote than they needed for success. But what will happen next? Could this bill land on President Donald Trump's desk and become law? What would it mean for health care in America? Read on.
News flash: This bill is dead in the Senate. Statements from Republican senators poured in after the House passed the bill, with the conventional wisdom holding that the Senate would draft its own plan to replace the Affordable Care Act.
The House passed the American Health Care Act without a Congressional Budget Office score — a nonpartisan analysis of the bill's impact. That won't fly in the Senate. Senate leadership said they would not begin consideration of the AHCA until a CBO score is released. "We're writing a Senate bill and not passing the House bill," said Sen. Lamar Alexander (R-Tenn.), a key player in moving a Senate health care bill. Mic's Emily Singer has more on why this bill faces a tough road in the Senate.
Trump really wants the Senate to take up this bill. In a celebration at the White House, Trump made it sound as if passage of the AHCA in the upper chamber is a foregone conclusion. "It's going to be an unbelievable victory when we get it through the Senate and there's so much spirit there," Trump said. That "unbelievable victory" is likely to stall at the lower chamber, but that doesn't mean GOP senators will not face intense pressure to keep a promise they've made for seven years: that they will "repeal and replace" the Affordable Care Act.
Take Republican senators at their word that they will work seriously on their own health care bill. But don't count on it happening quickly, and don't count on compromise with the House. Sens. Susan Collins (R-Maine) and Rob Portman (R-Ohio) could not be further apart from the House Freedom Caucus on health care. With a Republican majority of two votes in the Senate, that could bring everything to a grinding halt.
Mic has extensive coverage of what this bill would do. I wrote Thursday about how the AHCA moves America back in time to a period when every state set its own rules — and chaos ensued. Andrew Joyce highlighted three largely unknown provisions in the law you must know about, affecting special education, employer insurance and people living in liberal states. Read that here. The AHCA also defunds Planned Parenthood, a nonstarter for at least two Republican senators — and could make being the victim of sexual assault a pre-existing condition that causes Americans to be denied coverage by insurers.
Remember: A previous CBO score said this bill would lead to 24 million fewer people having coverage. That was before the changes affecting people with pre-existing conditions. Those changes could most harm people living in 11 states that strongly supported Trump. The $8 billion Republicans offered to help cover premiums affected by those changes might cover up to 5% of people with pre-existing conditions.
Note how House Majority Leader Kevin McCarthy (R-Calif.) walks a fine line with this statement: "Nobody on Medicaid is going to [have it] taken away." True, unless states choose to cut Medicaid — which they can do under the AHCA.
Yes, the AHCA is also a large tax cut for wealthy Americans. Over the next decade, the bill would cut federal tax revenue by about $700 billion — with most of that going to the richest Americans. Cutting those taxes in Obamacare would save the average member of the top .01% of earners about $200,000 a year.
Watch this: On Thursday night, Trump told Australian Prime Minister Malcolm Turnbull that Australia has better health care than the United States. Australia's health care is government-run. But that's not totally out of character for Trump: He has praised single-payer health care for years.
Wondering how your member of Congress voted? The New York Times has a list of how every member of the House voted. Twenty Republicans voted no, along with every Democrat. See that here.
Since this bill is likely dead in the Senate, the bill's most tangible impact may be its effect on the 2018 primary. Commentators are already discussing who will lose their seat in 2018 over their AHCA vote. Politico has a story on the Republicans who voted for the AHCA and are from districts Hillary Clinton won in 2016. The Democratic war machine is firing up. Over at the progressive website Daily Kos, an article reads: "Want to take immediate revenge on House Republicans who voted to destroy health care?"
A cynical view: Did Republicans just pass this to keep House Speaker Paul Ryan (R-Wis.) safe? Ryan — and his White House buddy, White House Chief of Staff Reince Priebus — were on shaky ground after an unproductive first 100 days. Word on the street is that Ryan needed this victory to shore up support in the House, while Priebus needed the W to appease the powers that be in the West Wing.
This is Mic's daily read on Donald Trump's America. Welcome to the political newsletter that wants to know how you feel about the passage of the American Health Care Act. Please email trumpsamerica@mic.com with your thoughts. 
Highlights:
Today: House Republicans passed the American Health Care Act.
More: They said it kept their promise to "repeal and replace Obamacare."
Even more: Despite the celebration, passage in the Senate looks unlikely.
Yes, more: There will not be a government shutdown, at least not until October.
Trump's agenda today: The president is in New York City. Nothing public is scheduled for Friday.
In non-health care news:
The Senate passed a $1.1 trillion spending bill to keep the government open through September. Senate passage of the bill, by a 79-18 vote, came a day after the House passed the spending bill. Trump is expected to sign the legislation on Friday. The bill avoids a government shutdown and gave Democrats a victory on science and health care spending.
News and insight you cannot miss: 
•  W. Kamau Bell explains why he interviewed white supremacist Richard Spencer. (Mic)
•  Trump announced he'll meet the pope. It could get awkward. (Mic)
•  The Justice Department is investigating Uber for allegedly avoiding local regulators. (Mic)
•  Listen to former Rep. Barney Frank explain why consumer financial protections are so important. (Mic)
•  Democrats have historically low trust in the federal government. (Mic)
•  Hillary Clinton is all-in on funding opposition to Trump. She's launching a political action committee to fund the "resistance." (Mic)
•  The State Department is spending more than $1 million to review itself. (CBS News)
Correction: May 5, 2017