Melania Trump apparently doesn't know she liked and un-liked tweet mocking her marriage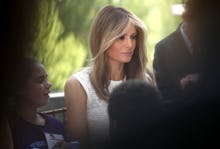 The first lady just learned her first lesson on plausible deniability.
All eyes were on Melania Trump Wednesday when Twitter users discovered she had mysteriously liked and then un-liked a tweet from writer Andy Ostroy that joked about her seemingly distant marriage to President Donald Trump.
Twitter, naturally, had a field day with the initial revelation, causing multiple outlets to investigate what possibly could have happened. Had Trump liked the tweet herself — and if so, was it a subtle cry for help? Had she liked it accidentally? Or had she been hacked? 
Trump's communications director has finally put the speculation to bed, telling People magazine that the first lady "wasn't aware" she'd liked the tweet at all.
"The first lady wasn't aware of any of this until I brought it to her attention," communications director Stephanie Grisham told the outlet.  "It isn't her primary account and we have since changed the passwords."
And to think — those "free Melania" Twitter jokes were all for naught.