Police save teen's life after Facebook Live suicide attempt, thanks to concerned viewers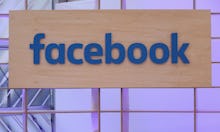 Authorities in Bibb County, Georgia successfully intervened in the attempted suicide of a teenage girl, who took to Facebook Live to broadcast it, courtesy of concerned viewers that tipped off the police.
The high school student began a livestream around 7:30 p.m. on Tuesday night, Bibb County Sargent Linda Howard said. Officers received a call from a "concerned adult" — and several more thereafter — about the incident unfolding on Facebook Live.
"It's a good thing that the people watching this called it in," Bibb County Sheriff David Davis told the Macon Telegraph. "Those people did the right thing."
Three patrol cars and an ambulance showed up at the girl's home 30 minutes later, after officers tracked down her address from the local school district. Authorities entered through a bathroom window to find the teen unconscious, but alive, on the bathroom floor — she was taken to a hospital and is "doing OK," according to Howard.
"This is our first case like this," Howard told NBC News. "It was likely a cry for help. When you're doing something like that live, you're hoping someone will stop you. ... Deputies on the scene were happy they were able to save her and bring her back to her family."
Suicide rates are rising in the United States, according to a 2016 analysis by the National Center for Health Statistics, a branch of the Centers for Disease Control and Prevention. The highest growth — and largest percent increase — was seen among girls between the ages of 10 and 14. While this age group constitutes a small portion of total suicides, their rate has tripled over the past 15 years.
The history of suicide on Facebook Live
Live broadcasts of suicide attempts have been an unfortunate trend among Facebook users since the social media giant rolled out it's Facebook Live feature last year. This year alone, there have been several cases: 14-year-old Naika Venant ended her life in the bathroom of her foster parents' home; aspiring actor Frederick Jay Bowdy broadcast his death from his car in North Hollywood; James M. Jeffrey of Alabama ended his life on Facebook Live following a break-up; and a man in Thailand, Wuttisan Wongtalay, killed his 11-month-old daughter before taking his own life.
In March, Facebook launched real-time suicide prevention tools within its livestreaming service. It allows users watching a livestream to report the broadcast to Facebook if they are concerned about a person's well-being. Doing this triggers various resources — contacting a helpline, seeing tips about coping and reaching out to a friend — to become available to the user who is streaming.
"Some might say we should cut off the livestream, but what we've learned is cutting off the stream too early could remove the opportunity for that person to receive help," Facebook researcher Jennifer Guadagno told TechCrunch.
In the recent attempt in Georgia, Facebook alerted authorities of the teen's footage as it was taking place, Howard said.
Amidst the growing violence being streamed on the social media platform, CEO Mark Zuckerberg announced earlier this week that the company will be adding 3,000 more staffers to join Facebook's community operations team, which already has 4,500 employees, over the next year to review reports, oversee content and remove violent videos.
"Over the last few weeks, we've seen people hurting themselves and others on Facebook — either live or in video posted later. It's heartbreaking, and I've been reflecting on how we can do better for our community," Zuckerberg said in a Facebook post. "If we're going to build a safe community, we need to respond quickly. We're working to make these videos easier to report so we can take the right action sooner — whether that's responding quickly when someone needs help or taking a post down."
As for what Facebook users can do aside from reporting broadcasts to the platform, Howard says they should contact authorities.
"Please alert law enforcement," Howard told NBC News. "Don't just tell them not to do it or ask if they are OK. Call 9-1-1." 
Editor's note: For information about suicide prevention or to speak with someone confidentially, contact the National Suicide Prevention Lifeline at 1 (800) 273-8255 or the Crisis Text Line at 741741. Both provide free, anonymous support 24 hours a day, seven days a week.