Officer who killed Jordan Edwards in Balch Springs, Texas, needed anger management in 2013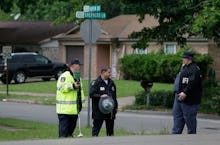 NBC News has uncovered troubling details about the past conduct of Roy Oliver, the Balch Springs, Texas police officer who shot 15-year-old Jordan Edwards in the head on Saturday. According to personnel files obtained by the network, Oliver was ordered to take anger management classes and suspended for 16 hours after an angry outburst in a courtroom in 2013.
NBC News reports that Oliver was "angry" he had to attend court that day. He reportedly lashed out at several prosecutors using "language that was so vulgar that the assistant DA had a young female intern leave the room." The assistant district attorney — who was in the courtroom at the time — reportedly sent a text message to a fellow DA present saying Oliver was "scaring them." The two prosecutors later said in an email that Oliver was a "scary person to have in our workroom."
That same year, Oliver received a low score from the Balch Springs Police Department on "the extent to which this employee is able to communicate with the public as wells as other employees both verbally and in writing," according to NBC News. 
These revelations shed new light on the individual at the center of one of the more troubling instances of police violence in recent months. On Saturday evening, Oliver was one of two officers who responded to reports of underage drinking at a house party in the Dallas suburb of Balch Springs. Oliver allegedly fired a rifle into a car carrying five teenagers, striking Jordan Edwards in the head and killing him. 
The officers' initial report about the incident stated that the teens' car was backing toward them in an "aggressive manner," according to the New York Times. But that was proven to be untrue, after internal affairs investigators watched body camera footage and saw that the car was actually driving away from the officers when Oliver opened fire.
Oliver, who is white, was fired by the department on Tuesday, and has until May 12 to appeal his termination. Local prosecutors are currently weighing murder charges in the case. Edwards, the black victim, was a high school freshman at Mesquite High School in Mesquite, Texas. In a statement delivered Tuesday, Edwards' family described him as a "loving child with a humble and sharing spirit," according to the Dallas Morning News.