Democrats are ensuring that Trumpcare will "haunt" House Republicans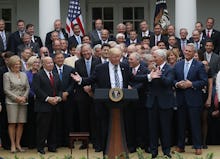 As the House's decision came down on Thursday, declaring the GOP's health care bill passed, angry Democrats in the chamber started their chant:
"Na, na, na, na, hey, hey, hey, goodbye."
Indeed, as President Donald Trump and his party cheered the bill's passage in the White House Rose Garden, Democrats were already placing targets on GOP members' backs for the 2018 midterm elections, regardless of which way they voted on the American Health Care Act. 
"Make no mistake about it: Every single House Republican bears the responsibility for this heartless legislation, and the passage of this bill will haunt them through Election Day," Rep. Ben Ray Luján (D-N.M.), chairman of the Democratic Congressional Campaign Committee, said in a statement.
Experts say that, in its current form, the AHCA will cause 24 million people to lose their coverage, increase premiums for old and sick Americans and weaken protections for people with pre-existing conditions. 
Democrats say that the House's passage of the bill was a career-ender for nearly two dozen GOP members, a suspicion reflected by non-partisan groups. The Cook Political Report declared some Republican members more vulnerable in their re-election bids than they were prior to the vote. That includes Reps. Mike Coffman of Colorado, Steve Knight of California and Jason Lewis of Minnesota, whose re-elections now look like toss-ups.
In fact, the Cook Political Report says 20 GOP-held House seats are now in vulnerable territory — a number that puts the Republican House majority at risk.
Already, the left-leaning website Daily Kos helped raise nearly $900,000 to boost challengers running against 24 House Republicans in competitive districts who voted to pass the AHCA.
Even the nine Republicans in districts Clinton won who voted against the AHCA won't be spared, as Democrats will seek to tie them to the members of their party who voted to pass the bill.
Still, others caution that it's too early to count Republicans out in the 2018 midterms.
"Republicans' House majority was at risk before the health care vote and it's at risk after the health care vote," Nathan Gonzales, editor of Inside Elections, a non-partisan political analysis outlet, said in an interview. "But I'm not ready to predict the outcome of dozens of races that won't take place for another year and a half or more."