Mike Pence says Trump has made Latinos "a top priority," on anniversary of taco bowl tweet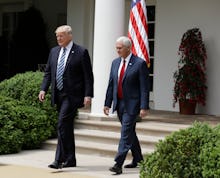 Vice President Mike Pence on Thursday celebrated Cinco de Mayo like so many clueless white people do: by being brazenly offensive to Mexican-Americans.
No, he didn't take a picture of a taco bowl and tweet out that he "loves Hispanics!" — who'd be that tone-deaf and patronizing? Instead, Pence kicked off the holiday celebration by telling a bunch of people at a reception that President Donald Trump has "made the Latino community a priority."
"We are, as the saying goes, with a few exceptions, a nation of immigrants, and that's as true today as it was at the hour of America's birth," Pence said in his remarks at the Eisenhower Executive Office Building. "The president has made the Latino community a priority and we always will."
Of course, Trump is better known for calling Mexican immigrants "rapists," cracking down on all those "bad hombres" and pushing for a wildly unnecessary wall on the United States' southern border. And for a guy who "prioritizes" the Latino community, there is only one Hispanic member of his Cabinet — Labor Secretary Alexander Acosta, who was the last Cabinet member to be confirmed.
But take it from Trump and Pence: The administration "always will" make Latino Americans a priority.
At the reception on Thursday, Pence also praised the contributions Mexican-Americans have made to the country.
"Economically, culturally, in our churches, our towns and cities across this country, the truth is that Mexican-Americans and Hispanic-Americans as a whole make a difference in America every single day," Pence said. "And that really is what we celebrate in Cinco de Mayo."