On Washington State campus, video sparks outrage for its racist message to black women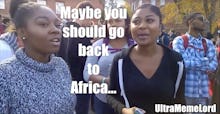 A racist video that recently surfaced on social media has prompted outrage among Washington State University students, faculty and alumni. 
The video, filmed at a campus anti-Donald Trump rally in fall 2016, shows an altercation between black female students and white Trump supporters debating race relations in the United States. The film features a young white man, decked out in Trump campaign attire, asking black students if they were ready to make America great again.
When the students asked the man when the U.S. has ever been great, he said, "maybe you should go back to Africa." The video then cuts away to footage of black men dancing and ends with a clip of a young boy saying "nigger." 
A Facebook user under the alias of Ultra Meme Lord uploaded the video. The video has since been removed and the account deleted. Tyisha Brown, a cabinet member of WSU's Black Student Union, re-uploaded the video on Thursday and put on Ellen Degeneres' Facebook page. You can see the video below.
The film has since sparked outrage. On Thursday, Washington State University president Kirk Schulz released a statement condemning the video and on Twitter, he announced the administration will be launching an investigation. 
"The attitudes, the behavior, and the language expressed in the video are not acceptable. ... Individuals with those beliefs are not welcome in our community," Schulz wrote. He also stated that the video "was intended to cause pain to our community of color at WSU. It directly impacted our students of color studying for final exams."
But the university administration's efforts are not enough for Black Student Union president Chijioke Emeke. Emeke, who was preparing for finals when she first saw the video, said in a direct message to Mic that the university continues to make empty promises. 
"Students at your university are feeling tired," Emeke said. "We continuously ask for changes to be made and our requests are never met. Administration preaches this concept of "Cougar Pride," but its actions or lack thereof make students feel disrespected and unheard."
Emeke said she would like to see the university revise their policy to define what falls under "hate speech," and to implement mandatory cultural competency trainings as a part of orientation for all first-year students, Greek life community members, and newly employed faculty and staff.
David Leonard, a professor in the department of critical culture, gender and race studies, said he is also disappointed in the lack of effort and action taken by the university regarding racial tension on campus. 
"To see yet another example of anti-black racism on campus in absence of a clear plan to transform the campus culture, to create policies that will result in a university that represents and supports every student," Leonard wrote in an email to Mic. "We are concerned for our students; we are disappointed and angry that these students have to endure these indignities and hostilities; and we are frustrated that there doesn't seem to be a plan to facilitate change despite the long history here."
Victoria Pearl-White, director of diversity affairs at WSU, said there was an incident two years ago in which female black students were verbally assaulted at a Phi Delta Theta fraternity party. A male student of the fraternity repeatedly shouted and called the women "nigger bitches." The incident prompted a coalition of students to launch WakeUpWSU to advocate race and gender sensitivity and to pressure the university to take action.
Here's a photo from one of WakeUpWSU's organized protests.
These problems are not just confined among the black student community at Washington State. Pearl-White said she has seen a considerable uptick in racism and discrimination since the beginning of the 2016 presidential elections.
"The entire multicultural community has had to deal with a large amount of anti-semitism and xenophobia from supporters of [Donald Trump]," Pearl-White said.
WSU College Republicans president James Allsup filmed and uploaded the original footage in the racist video. In several tweets, he denied allegations of being responsible for UltraMemeLord's edited video. 
"In perhaps the most hilariously embarrassing moment for WSU's admin this year, they've launched a full investigation — into a meme," Allsup wrote. "Essentially, the FB page 'Ultra Meme Lord' used content from my YouTube channel to create a pretty overtly racist meme video. Here's the thing though: this video can't even be traced back to WSU. An anonymous Facebook meme page created it. Just further evidence that universities are nothing more than bubble-wrapped safe space havens that need a good popping."
Allsup, who dropped out of the race for College Republicans National Committee chairmanship, has been in the middle of several controversies regarding race and gender on campus. An avid YouTuber, several videos of Allsup feature him debating with black female students about race and using arguments rooted in race realism. 
On social media, Allsup often cites Richard Lynn — a noted white nationalist — to argue that men, East Asians and whites are genetically superior than other races, and wealth and power should be based on people's "racial homogeneity." Race realism has been debunked several times among mainstream and credible scientists. On Aug. 30, Allsup introduced Donald Trump at a campaign rally in Everett, Washington.
The College Republicans National Committee and Allsup did not respond to Mic's request for comment.