Republican Health Care Bill: Thursday's vote may shift 20 GOP districts toward Democrats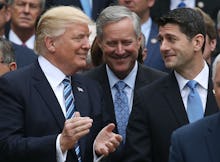 The non-partisan Cook Political Report has altered its 2018 midterm projections in 20 races — and every last one of the alterations represents a lack of confidence in the Republican Party after the House passed the American Health Care Act Thursday.
Senate Republicans are already criticizing the lower chamber's bill. Sen. Lamar Alexander (R-Tenn) offered a stunningly frank dismissal: "We're writing a Senate bill and not passing the House bill."
Sen. Lindsey Graham (R-S.C.) joked, "Like y'all, I'm still waiting to see if it's a boy or a girl." Meanwhile, Sen. Bob Corker (R-Tenn.) said he had "no idea what the House is even passing" because he'd "turned the volume off some time ago."
Only 17% of the public was behind the House's plan, and the GOP may feel the repercussions in the 2018 midterm elections.
Three races no longer projected to lean Republican, others see slipping GOP grip
The Cook Political Report findings spell trouble for the GOP as the party begins a serious attempt to unravel the Obama administration's signature legislative achievement.
Races in California, Colorado and Minnesota that were projected to lean Republican have now been labeled toss-ups.
Another six races that were considered to be completely safe seats have slid over into the "likely Republican" category.
Eleven races saw their statuses slide from "likely Republican" to "lean Republican."
While these findings are likely to continue shifting, Democrats may see an advantage as their role becomes the protection of a popular piece of legislation that Republicans are intent on stripping.
The report notes that Democrats may want to be careful in labeling the ACA repeal efforts "Trumpcare," since the president's approval rating is higher than the repeal effort's current rating.