Former Trump campaign official in Kentucky charged with child human trafficking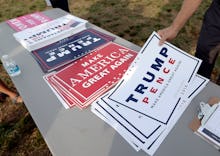 Timothy Nolan — a retired judge who chaired Donald Trump's electoral campaign in Campbell County, Kentucky — will appear in court Friday on charges of human trafficking and unlawful transaction with a minor, according to reports. 
Nolan, 70, allegedly forced a minor to perform commercial sex in August and was arrested last month, Reuters reported. Rape, human trafficking and giving alcohol to a minor are among the nine felonies and two misdemeanors Nolan has been charged with. 
Nolan has denied all charges.
He was assigned an ankle-monitor at his arraignment in April and forbidden from any contact with his alleged victims. 
A former district court judge in Campbell County, Nolan has reportedly been active in conservative politics and the tea party movement in recent years. He served as the chair of Trump's campaign in the northern Kentucky county last year and in July helped select delegates to cast votes for Trump in the party primary.
Nolan was elected to the Campbell County school board in November. He resigned from that post on Thursday, thanking his colleagues in a statement and saying did not want to "[distract] from the board's important business."
The statement from his lawyer also dismissed the charges as "baseless and set up."
In May 2016, Nolan was removed from the state's Boxing and Wrestling Commission after an anti-Republican website posted what was purported to be a picture of Nolan wearing a Ku Klux Klan robe. Nolan filed a defamation lawsuit in June saying the person in the robe was not him, but a friend posing in them as a "joke" a few Halloweens earlier. 
"It's a joke in the neighborhood because every year [Nolan's friend] dresses up as a Klansman and he has two black grandchildren that he loves to death," Christian Dennery, a lawyer representing Nolan, said.
The lawsuit said the Trump campaign did not dismiss Nolan because he assured them he was not racist.
Nolan could face up to 20 years in prison for the human trafficking charge, a Kentucky Department of Corrections spokesperson told Reuters ahead of the preliminary hearing Friday.