New Nintendo 2DS XL Vs 3DS XL Vs Switch: 15 comparison photos to make the choice easier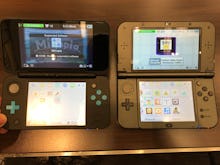 The obvious comparison when considering Nintendo's New 2DS XL are the company's current handheld consoles: the New 3DS XL and the Switch. Even though the New 2DS XL is being released after the Nintendo Switch, the Japanese gaming company wants you to know its older portable console line still has some life left in it. 
If a picture is worth 1,000 words, we've thrown together 15,000 on how Nintendo's New 2DS XL compares to the current Switch, the New 3DS from 2014 and even the Game Boy Color from way back in the day. 
Check out our gallery below.
New Nintendo 2DS XL versus 3DS XL versus Switch: Here's how the newest gaming handheld stacks up
The New 2DS XL hits stores on June 28 for $149.99.
Check out more Nintendo news and coverage
Looking for more Nintendo Switch news? Check out how blind gamers are using the Nintendo Switch. Nintendo's left Joy-Con issue turns out to be a hardware problem — here's how to solve it. Find out how to buy a console amidst the recent restock. Learn why the Switch cartridges taste so bad and why we may not see VR anytime soon. Check out our comparison photos sizing up the Switch to the Wii U GamePad (part one and part two), or find out how to make use of ethernet without the dock and the best way to get alerts when new stock arrives.