There are now 4 Clinton/ Trump TV series in the works that no one asked for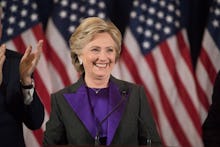 Want to relive the 2016 presidential election? Well, you're in luck. Yet another miniseries is in the works — this time by Sony.
Deadline reports that the book Shattered: Inside Hillary Clinton's Doomed Campaign is being turned into a miniseries by TriStar Television and Sony Pictures. Shattered, from authors Jonathan Allen and Amie Parnes, is the fourth miniseries (so far) that is taking on Donald Trump and Hillary Clinton's presidential campaigns.
Let's break down all the other unnecessary TV projects surrounding Trump's win and Clinton's downfall. 
American Horror Story season seven
One of the jokes leading up to the 2016 election was that we were watching the new season of American Horror Story play out. That didn't turn out to be far off. Series co-creator Ryan Murphy announced on Watch What Happens Live in February that the season seven theme of the FX show would be "the election we just went through."
"What I'm interested in doing is not just the obvious, single-minded point of view, but rather express all sides of that equation," Murphy told the Hollywood Reporter. 
And then all of the stuff that I'm developing now is going to be about illuminating and highlighting people who don't have a voice in our culture — people who are ignored by the current administration and who are afraid and feel terrorized that their lives are going to be taken away.
Sarah Paulson and Evan Peters are the only confirmed returning cast members so far.
Mark Boal and Megan Ellison's political drama
Boal and Ellison, who worked together on Zero Dark Thirty, are developing an eight to 10 hour series on the election. According to Deadline, the project is being described as a "political drama" and will include input from investigative journalists. The series has yet to be picked up by a network.
HBO's miniseries
Mark Halperin and John Heilemann, the two journalists behind the 2012 HBO movie Game Change, are working on a new miniseries for the premium cable network. While Game Change was based on their book about the 2008 election, the upcoming project will be about their new book on Trump's 2016 campaign.
Game Change director Jay Roach will return to direct and executive produce the new miniseries. Tom Hanks and Gary Goetzman also returning as executive producers. 
Mic has ongoing TV coverage. Check out our main TV hub here.