'Call of Duty WW2' Private Beta Start Date: Predicting when the multiplayer preview will release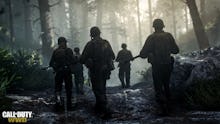 Multiplayer is such an important part of Call of Duty that it absolutely can't launch with huge problems. As such, running betas ahead of time to iron out the kinks has become the norm with the series. That remains true with the upcoming Call of Duty: WW2, which is getting a closed beta before its release on Nov. 3. 
But when does it start? We don't know yet, but based on past trends, we can guess.
Call of Duty: WW2 closed beta start date predictions
For reference, the past two Call of Duty games (Infinite Warfare and Black Ops III) had multiplayer betas prior to their releases. Infinite Warfare's beta was just a few weeks before the game came out. Black Ops III, meanwhile, had more than two months between its beta and its release. 
Sledgehammer Games has promised to show off Call of Duty: WWII's multiplayer at E3 in June. They could launch the beta right then and there or a few days afterward. What's more likely is that the beta will be closer to release. 
Based on previous trends, it will be anywhere from August to October. That isn't very specific, but it's better than nothing. At least for now. Hopefully, we'll learn more at E3 2017.
More gaming news, updates, tips and tricks
Check out the latest from Mic, including our deep dive into how female Overwatch players are dealing with online harassment, an article about a fan movement advocating for more same-sex romance options in Mass Effect, a personal essay about JonTron written by a fellow Iranian-American and an article looking at cultural diversity in Overwatch.