Brooklyn coffee shop sues Starbucks over "Unicorn Frappuccino" drink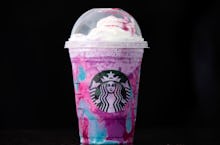 In April, Starbucks' Instagram-friendly Unicorn Frappuccino sparked massive controversy, inspiring backlash from customers, chefs and Starbucks baristas alike.
Though the brightly hued drink left Starbucks menus on April 23, the controversy still continues. The coffee chain is now being sued by small Brooklyn, New York City, cafe The End, which alleges Starbucks' limited-time drink infringes on its own "Unicorn Latte."
In a Brooklyn federal court complaint filed on Wednesday, The End accuses Starbucks of trademark infringement, alleging that the "size of and scope of Starbucks' product launch was designed so that the Unicorn Frappuccino would eclipse the Unicorn Latte in the market." The cafe, which has been serving its drink since December, filed a trademark application for the latte's name in January. 
Though both drinks are coffee-free, they differ in their ingredients: Starbucks' concoction largely consists of cream and sweeteners, while the Unicorn Latte is made up of healthier ingredients such as dates, ginger, dried maca root and blue-green algae. Both drinks, however, are brightly colored and prominently feature pink and blue hues, according to the complaint.
The Seattle Times reported that attorney Josh Schiller said the suit was filed to "protect a local business from having its valuable intellectual property taken by a global corporation." The Seattle Times also reported that The End's owners want Starbucks to turn over its profits from the Unicorn Frappuccino and refrain from ever using the name again. USA Today noted that the Brooklyn coffee shop and parent company Montauk Juice Company are also asking for a public apology from the Seattle-based coffee giant.
For its part, Starbucks is currently dismissing The End's infringement claims, which it reportedly believes are "without merit."
"The Starbucks Unicorn Frappuccino blended beverage was inspired by the fun, spirited and colorful unicorn-themed food and drinks that have been trending in social media," the company said in a statement, USA Today reported. "The beverage was offered for a limited time in April and is no longer available in our stores."