The State Department hastily deleted this possibly illegal tweet about Ivanka Trump's book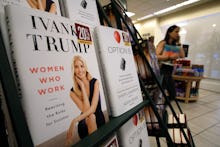 A State Department office might have broken ethics guidelines when it retweeted an Ivanka Trump's tweet promoting her new book on Wednesday. The tweet was later deleted, CNN reported on Friday, but not before people noticed the free promotion, which likely represents a breech of ethics.
The account, @GenderAtState, is an office within the U.S. State Department that focuses on women's issues. 
It regularly retweets photos and information about Ivanka Trump's role as "White House special counselor," but retweeting a tweet promoting her new book, Women Who Work, may have violated a rule meant to keep federal employees from using their positions for personal gain, HuffPost reported on Thursday.
That rule, part of the Code of Federal Regulations, states that "an employee shall not use his public office for his own private gain, for the endorsement of any product, service or enterprise or for the private gain of friends, relatives, or persons with whom the employee is affiliated in a nongovernmental capacity."
Trump has already said her book "is a personal project" and chose not to do a promotional book tour so as not to violate ethics rules, CNN reported. Yet she has continued to promote her book on social media, allegedly after consulting with the Office of Government Ethics.
The since-deleted tweet from the @GenderAtState account isn't the first ethics violation involving Trump-brands and the State Department. Back in April, the State Department came under fire for officially promoting Mar-a-Lago, one of President Donald Trump's Florida resorts, in what was another apparent breach of ethics. 
Those pages were later and replaced with a statement: "The intention of the article was to inform the public about where the president has been hosting world leaders. We regret any misperception and have removed the post."