Trump seeks devastating cuts to the Office of Drug Policy despite ongoing opioid crisis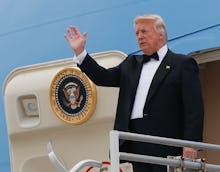 President Donald Trump's administration will reportedly cut the Office of National Drug Control and Policy budget by 95%, CBS News reported Friday, a move that will nix almost every function of the office leading the charge against the country's opioid crisis.
The funding cuts would nix half of the ONDCP's staff, and cut the budget of the research the office is doing, CBS reported.
Trump campaigned on a promise to combat the swelling opioid crisis in 2016 presidential election. In March, the then-candidate signed an executive order that established the "President's Commission on Combating Drug Addiction and the Opioid Crisis," which he tasked with providing "administrative support" for the commission.
The cuts also come as Republicans passed the American Health Care Act, a bill that would make massive cuts to Medicaid, which currently provides coverage to millions of Americans seeking addiction treatment across the country. 
According to a description of the group on an archived website from the Obama administration, the ONDCP "advises the president on drug-control issues, coordinates drug-control activities and related funding across the federal government, and produces the annual National Drug Control Strategy, which outlines administration efforts to reduce illicit drug use, manufacturing and trafficking." The Trump administration does not make note of the ONDCP on its own website.
"These drastic proposed cuts are frankly heartbreaking, and if carried out, would cause us to lose many good people who contribute greatly to ONDCP's mission and core activities," ONDCP acting director Richard Baum wrote in an email to staff, according to CBS News.
Congress has the final say in approving the cuts when they appropriate funds for the next fiscal year which begins on Oct. 1.