'Mario Kart 8 Deluxe': 3 stars in Grand Prix is easier than you thought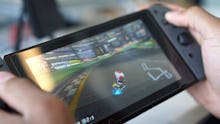 Getting three stars in Mario Kart 8 Deluxe's Grand Prix mode is as hard as ever. With the added 200cc mode built-in, racers in Mario Kart 8 Deluxe on Nintendo Switch don't make it easy to do well, which is what you'll need to do when fighting for first. If you're just not sure how to obtain three stars in Mario Kart 8 Deluxe, here's what you need to do.
How to get 3 stars in Mario Kart 8 Deluxe Grand Prix
Qualifying for three stars in Mario Kart 8 Deluxe will net you a gold trophy. But getting a gold trophy doesn't automatically get you three stars. So what's the difference?
To get three stars at the end of a Grand Prix cup, you'll need to place first in all four races. Coming in first will get you 15 points to add to your overall score once a race is finished. Getting 60 points overall will ensure you three stars. 
Obviously doing this in 50cc is much easier than 150cc or the breakneck 200cc engine classes. If you're feeling confident in the easy settings of 50cc and 100cc, go with a heavy character so you can really pick up speed. If you're in one of the more difficult engine classes and still starting out, you may want to choose a light or medium-weight character if you foresee yourself bumping into a lot of walls. Get good enough, and you may even unlock Gold Mario while you're at it.
Check out more Mario Kart 8 news, tips and tricks
If you're anxious to get racing in Mario Kart 8 Deluxe, check out our video gameplay of the first 20 minutes of the game and find out the eight characters the game needs ASAP. Check out the best techniques to race with and learn how you can buy the game bundled with the console, including one bundle from Nintendo. Find out if we're expecting DLC and our initial impressions of the new console it's on from back in January. Or you can play Mario Kart 64 on a newer console instead, if you're looking for some nostalgic throwback. And when all else fails, back that thang up.