Zero women are involved in drafting the Senate GOP's Obamacare repeal plan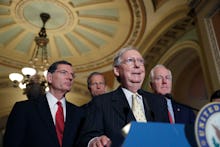 The House may have passed the American Health Care Act on Thursday, kicking the Republican plan to the Senate. Yet the Senate, unhappy with the bill the House came up with, plans to completely rewrite their own piece of legislation.
And they'll do it with a 13-Senator working group of Republicans that includes zero women and just one person of color: Texas Sen. Ted Cruz, who is of Hispanic descent.
It's unclear why, at this point, there are no women among the 13 senators involved in the drafting process. Two women in the senate GOP conference — moderate Sens. Susan Collins of Maine and Lisa Murkowski of Alaska — will be crucial GOP swing votes as they seek to get a bill through the chamber.
Collins has already said she is wary of the House's plan.
"Although I will carefully review the legislation the House passed today, at this point, there seem to be more questions than answers about its consequences," Collins said in a Thursday statement on the AHCA version the House squeaked through.
And Collins has drawn up her own proposal along with fellow GOP Sen. Bill Cassidy, a physician by trade.
Republicans also could have seen the attack on the optics coming, given that House Republicans received flack on Thursday during their very white and mostly male celebratory photo-op in the White House Rose Garden.
Twitter slammed the all-male Senate working group, with one person wisely pointing out that "at least the Viagra prescriptions will be safe."