The FDA is making all of its employees watch Fox News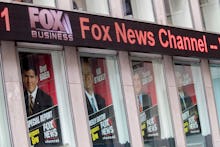 Employees at the Food and Drug Administration recently received an email in their inbox explaining a curious new office policy.
"Good Morning CBER Researchers," the email, referring to the FDA's Center for Biologics Evaluation and Research, reads. "I wanted to let everyone know the reason for the change from CNN to Fox."
The email, which circulated on Twitter and whose contents were confirmed by BuzzFeed, appears to suggest that television monitors in the department were recently all switched over from showing the centrist straight news cable channel CNN to the conservative leaning Fox News Network, a favorite of the current president.
"The current administration administrative officials [have] requested that all the monitors, under our control, display Fox news," wrote an official who appears to be an FDA employee.
Trump has not been shy about expressing his admiration for Fox News as well as his distaste for CNN. He frequently praises Fox News's conservative morning show Fox and Friends while deriding CNN as "fake news."
It's understandable why FDA employees may have been troubled by the change. In the past, Fox News has run segments openly critical of the FDA, and network personality John Stossel has used the channel to openly advocate its abolishment.