Chicago block tagged with graffiti reading "KKK" and "No N*ggers" on consecutive days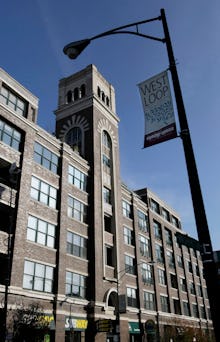 "No Niggers."
That's the message residents of Chicago's West Loop community found spray-painted on two of their sidewalks Thursday evening — just one day after someone scrawled "KKK" on traffic barriers about a block away.
The racist graffiti was discovered Thursday night on Monroe Street. The sidewalk on one side of the street said, "No Nigger." The other sidewalk said, "No Niggers."
Chicago's Department of Streets and Sanitation removed the messages Friday morning.
A day earlier, three roadside traffic barriers on Madison Street were vandalized with the letters "KKK." That message was removed Thursday morning.
According to Chicagoist, no arrests have been made, but the Chicago Police Department's Civil Rights Unit has been notified of the incidents.
Images of the graffiti were shared on the Facebook page for True West Loop, a community group, where residents condemned the hate messages. 
Moshe Tamssot, a resident of the neighborhood, told Mic that the community has "rejected" the hateful messages.
"Across the board, it's been rejected," Tamssot said. "Everyone's been angry and upset about it and it's not acceptable."
Alderman Walter Burnett Jr. told Chicagoist that the graffiti did not represent the West Loop.
"We won't tolerate that in our community," Burnett Jr. told Chicagoist. "We have a very diverse neighborhood... where everybody gets along. We're in the 21st century, and we're far past those kinds of things."