What channel is the 2017 MTV Movie and TV Awards on?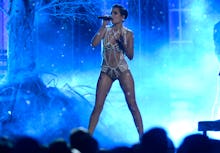 This year marks the first time the MTV Movie Awards will also honor TV shows, which means awards like best reality competition and best actor in a show will appear alongside movie of the year and best kiss. The show will also bless viewing audiences with double the villains, as best villain will now be awarded for both movies and television.
MTV President Chris McCarthy told Deadline Hollywood the reason for the addition is that "we're living in a golden age of content."
Great storytelling and characters resonate regardless of whether you're watching it in a theater or on TV. The new MTV Movie and TV Awards will celebrate even more of the brightest, bravest, funniest and most shared films and TV shows resonating across youth culture.
The show, hosted by Workaholics and Pitch Perfect star Adam DeVine, will be broadcast live from Los Angeles' Shrine Auditorium on Sunday, May 7, starting at 8 p.m. Eastern on MTV and its affiliates — TV Land, Comedy Central, Spike, BET and VH1. Past shows have often been pre-recorded in front of a live audience before airing, but this seems like a year of change for MTV. Despite the new live format, a live stream doesn't appear to be available for those without access to a TV.
Check your local listings to find out what specific channel MTV is on. You can find a full list of movie and TV nominees here.