Trump Army secretary nominee who said "transgender is a disease" withdraws his name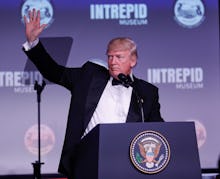 Tennessee state Sen. Mark Green, who was nominated by President Donald Trump to serve as secretary of the Army, withdrew his nomination Friday after mounting pressure from LGBTQ groups.
Green's nomination came under fire after his past comments against the LGBTQ community surfaced. 
"If you poll the psychiatrists, they're going to tell you that transgender is a disease," Green said at a Tea Party rally in Tennessee in September. "It is a part of the DSM-6, I think it is, the book of diagnostic psychological procedures or diagnoses."
LGBTQ groups condemned Green's nomination, and called for his withdrawal. In a statement, Green said it was with "great regret" that he withdrew his name from consideration.
"Tragically, my life of public service and my Christian beliefs have been mischaracterized and attacked by a few on the other side of the aisle for political gain," Green said in a statement to a local Tennessee reporter.
Chad Griffin, president of the pro-LGBTQ Human Rights Campaign, called Green's withdrawal a victory.
"After weeks of pressure from @HRC members and supporters and our allies, anti-equality Mark Green is out as Army secretary nominee," Griffin tweeted. "@realDonaldTrump must nominate an Army secretary who respects all service members. We will continue to hold him accountable if he doesn't."
Green is Trump's second Army secretary nominee to withdraw his name.
Billionaire Vincent Viola, owner of the Florida Panthers NHL team, withdrew his name from consideration in February, saying he couldn't divest from his business interests.