How chilaquiles, a humble leftovers dish, became Mexico's ultimate hangover food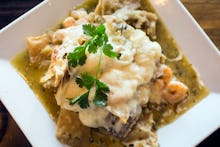 Chilaquiles just might be the ultimate Mexican hangover food. Fried tortillas cut into triangles or squares are covered in sauce, melted cheese and any variety of toppings, like eggs, meat and vegetables. They are equal parts satisfying and addicting.
Like other comfort foods, including enchiladas, chilaquiles originated as a way to repurpose leftover tortillas for breakfast in the days before refrigeration, according Lesley Téllez, author of Eat Mexico: Recipes From Mexico City's Streets, Markets and Fondas. "You fry them and douse them in salsa and everybody forgets they were this stale, hard thing just hours before," Téllez said in a phone interview.
It's the food of humble people, working class people.
Chilaquiles have evolved from peasant food, like pasta, Ilan Stavans, professor of Humanities and Latin American and Latino Culture at Amherst College, said in a phone interview.
"Pasta in Italy was invented when there was a shortage of meat in the 19th century. When you eat pasta with meat today, it's kind of a contradiction in terms because one came to replace the other," Stavans said. "It's the same thing with chilaquiles in Mexico. It's the food of humble people, working-class people. Now it has gone out of that environment."
"There are very fancy restaurants that serve chilaquiles, that do all types of things that are very artistic, very colorful," said Stavans. "You can put it with very fancy ingredients, like lamb, or you can put it with pork, but chilaquiles used to be for people who couldn't afford lamb or pork. So it's the same type of contradiction."
The origins of chilaquiles
In Southern California and Texas, chilaquiles are pretty common at brunch or Mexican or Tex-Mex restaurants. It's typically one item among several other entree options, maybe with a choice of red or green salsa, meat or no meat. That's not to confuse chilaquiles with Tex-Mex food. The dish predates Texas, modern Mexico and even the idea of the Americas, if we trace it through its etymology.
"'Chilaquiles' [chile water] comes from Nahuatl, that in and of itself is a statement of the origins," Stavans said, referring to one of the pre-Columbian civilizations that eventually came to be known as the Aztecs. "Many of the Nahuatl names have made it into Mexican Spanish. You will not hear these words elsewhere, unless, like chilaquiles, they have traveled and become a staple of certain parts of Guatemala or Honduras, the Southwest of the United States," Stavans said. "A Nahuatl word is kind of a statement of how the civilizations of Mexico took shape. What happened before the [Spanish] conquest and after the conquest."
"After a very tough night of drinking a lot, many people conclude a long party with chilaquiles."
The passage of centuries have allowed for infinite variations throughout Mexico. At one restaurant in Tijuana, I found a place to try as many as I could.
In Tijuana, I stayed at the relatively new One Bunk hotel downtown. Over morning coffee, I met Will Taylor, a doctor from New Orleans, who was raving about the chilaquiles he had the day before. The hotel manager, Tania Lopez, then spoke evangelically about chilaquiles. She gushed about her go-to place so earnestly that I immediately rerouted my group for lunch. Most tourists don't go there, she added — this sealed the deal.
The restaurant, aptly named Los Chilaquiles, has a couple locations in Tijuana. We went to the one in Zona Rio. It's a clean, no-nonsense, modern place in a strip mall with laminated menus exclusively in Spanish. The restaurant serves over 30 different varieties of chilaquiles, with over 20 different toppings, available in any combination, yielding hundreds of permutations. They serve many other dishes, including quesadillas, tortas, hot cakes and pan francés (french toast), omelettes, eggs, burritos and salads.
Like pizza, you can combine almost any two flavors on one plate so we took advantage and tried as many as possible. We ordered the barbacoa (beef that was braised in banana leaf with ingredients from the state of Hidalgo), lengua (tongue, in a green salsa), Baja (a slightly creamy tomatillo sauce, rojos (the simplest one with a tomato sauce and cheese which tasted like plain Mexican lasagna), and the mole Oaxaqueño.
All the flavors I tried were good. I would have preferred some, like the barbacoa, to be more spicy, but that's just personal taste. The waitress had recommended that and the mole with pork belly as the most popular dish. There was nothing particularly screaming Tijuana, aside from the Baja shrimp one.
"The only regional difference in chilaquiles is in the toppings, although that's more reflective of personal tastes. And the other difference is in how soft you want them, or how hard. There's not stark regional differences like in, say, tamales or tacos," Gustavo Arellano, author of Taco USA: How Mexican Food Conquered America, said in an email interview.
Once I tasted the mole, though, everything that seemed good before was forgotten. Topped with sesame seeds, it had strong underlying sesame flavor, that melded with the chocolate sauce for a subtle, slightly nutty sweetness and a tempered spiciness that delivered a delayed kick. It wasn't as soupy as say, the rojos. Some of the tortillas were still crispy, some bending toward soft. There was melted cheese. It was sublime — all the sophistication of Mexican sauces on a plate of crisp and chewy fried corn. And all the chilaquiles cost about $6. What's not to like?
The chips are an important component. "For many Mexicans that is the sign of a good chilaquiles or a bad chilaquiles — how the tortillas, [or] totopos, were fried and how long they were left to dry," Stavans said. "The older they become, the better they take the chilaquiles. It has to be a good tortilla, it's just as in the taco. A taco might have the best meat, the best salsa or the best crema, but if the tortilla is not good, your taco is going to be a disaster. It's the same with the chilaquiles. If the tortilla is not made with good corn … well, that will determine the success or defeat of your chilaquiles."
Stavans, who was born and grew up in Mexico City, added that some people let the tortillas sit for six to 24 hours so that become like cardboard, to make a better base.
The secret social meaning of chilaquiles
There's another reason chilaquiles are taken seriously — eating them after a big night is considered to have a healing effect, as well as a social purpose. "There is the emotional, spiritual side. If you are going to have a hangover, the Mexican medicine is the chilaquiles. It's going to settle your stomach and make you feel you are coming back to life," Stavans said. "After a very tough night of drinking a lot, many people conclude a long party with chilaquiles."
The dish can also be a sign that your host is ready to call it a night. "If you go to a party that starts at 5 o'clock in the afternoon, then at 5 a.m. the chilaquiles will be served so that everybody can now go home," Stavans said. "The chilaquiles have arrived, you eat a little bit, and that means the host is telling you, 'You're safe to go.'"