'RuPaul's Drag Race' Episode 7 Recap: "9021-HO" proves to be a "9021-no" for 2 queens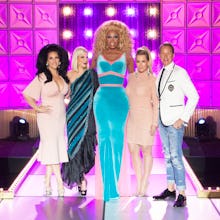 Can anyone possibly stand in Shea Couleé's way? That's the question "9021-HO," the seventh episode of RuPaul's Drag Race season nine, left me pondering. She's seemingly the whole package — a performer, a runway queen and a Drag Race nerd (clock her calling Peppermint a "lip sync assassin," a phrase most often used on the show's subreddit, during the cold open). 
During this episode's acting challenge, in which the queens flashed back to the '90s to perform a Beverly Hills 90210-themed script, Shea steals the show once again. So again, I ask: Is season nine a done deal? Who is her real competition?
It's not Farrah Moan, I'm sad to say. While she avoids the bottom this episode, the Las Vegas queen only registers as safe. She's overshadowed by her scene partner, Trinity Taylor — more on her later — and mostly stands out this week for saying she was born in 1993 and triggering a visceral reaction in RuPaul.
It's also probably not Nina Bo'Nina Brown, who falls into the bottom two this week after a pretty terrible performance as Shannen Doherty-lite. Given a meaty role, in response to her complaints about not getting Blac Chyna during the Kardashian musical challenge, Nina still fails to live up to her own hype. 
Nina's presence this season is frustrating, frankly, as it's hard to root for her when she keeps falling victim to her inner saboteur. After RuPaul's Drag Con keynote, it's easy to see what about Nina appeals to Ru. She still appeals to me, too, when she paints her face beautifully or gives hilarious soundbites in her talking heads. But at a certain point, we've got to accept that Nina won't get out of her head in this competition. That said, props to her for turning out a solid lip sync under fire.
Aja, of course, won't be Shea's competition, as the Brooklyn queen heads home this week after a really disappointing challenge performance. She looked like our lip sync assassin earlier this season, but she's fairly standard while lip syncing Cece Peniston's "Finally" that, while fine, seems a step behind Nina's. I will rave about Aja's "Look at Me Now" lip sync until kingdom come, but as mentioned last recap, she just wasn't performing to the extent of her capabilities on Drag Race.
Sasha Velour, Alexis Michelle, and Peppermint could be Shea's competition, but they don't feel like winners yet. Much of what Sasha does is impressive, including and especially last episode's Marlene Dietrich performance in Snatch Game, but she's not giving a ton of personality. Even her attempts to share about herself in the workroom come out a bit forced. (That's endemic of all the queens this season, though; even Shea falls victim to that this episode.)
Alexis and Peppermint, on the other hand, feel deeply middle of the road; some weeks it seems they're clicking, while others they're falling under the radar or getting criticized. Alexis also seems to be annoying the other girls, but isn't even serving the hallmarks of a great villain yet. If either of them steps it up, they could beat Shea, but they need to intrigue the judges. Points to Pep for really going for it in her kissing scene with Aja, though.
So we arrive at the top three of this challenge, which matches the likely top three of the season. Valentina and Trinity Taylor are, at this point, the only likely alternatives to Shea. The former is still getting a touch more praise than she deserves — while she should have been top three last challenge, her top placement for playing Monna Darten seems a bit more suspect — but there's no doubt she's charming, intelligent and gorgeous.
Trinity actually wins the challenge, and it's deserved. As Nelly's mom, she nails the vain desperation of her character perfectly. Still, I wonder how close Ru's decision was. This would have been Shea's third win, and that high a number this early in the competition can be demoralizing to queens without one. Giving Trinity a second win creates a close rival for Shea, and keeps the season from feeling over already.
But make no mistake: Shea kills it in this challenge. She takes a part Aja rejected — Grandrea Zuckerwoman, a senior citizen senior — and turns it into a scene-stealing performance. She's not just funny, though she is in spades; she also completely transforms her look through makeup, hair and body language. Guest judge Jennie Garth even admitted her shock at how completely different Shea looked on the runway.
Shea basically hit the home run this episode. She proved herself a good sport, game to switch parts as another contestant bitched about their casting. She impressed once again, both on the runway and in the challenge. She's working at a level that none of the others currently are. Trinity and Valentina — and, to a lesser extent, Sasha and Alexis — have a chance of rising to her standard still. But for the time being, she's running away with this.
Aja's departure leaves us with a top eight. Farrah seems likely to go next, but another pouty performance could put Nina in danger. RuPaul's Drag Race returns with the answer Friday, May 12, at 8 p.m. Eastern on VH1.
Mic has ongoing RuPaul's Drag Race coverage. Follow our RuPaul's Drag Race main hub.