The FCC will investigate Stephen Colbert's controversial Trump rant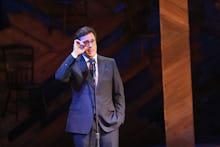 The Late Show host Stephen Colbert's controversial joke about President Donald Trump is making its way to the Federal Communications Commission. In an interview with Talk Radio 1210 WPHT, FCC chairman Ajit Pai confirmed that, due to several complaints, they're going to look into whether the joke is worthy of a penalty. Pai explained that the likely punishment, if the FCC takes action, is a fine. 
"We have received a number of complaints, as I said, and we'll follow the standard operating procedures, as we always do, and make sure we evaluate what the facts are and apply the law fairly and fully," Pai said. 
The joke in question came during Colbert's Monday night show, when he made an off-color — and potentially homophobic — remark about Trump's relationship with Russian President Vladimir Putin. "You have more people marching against you than cancer, you talk like a sign language gorilla that got hit in the head," Colbert said, responding to Trump's treatment of CBS' John Dickerson. "In fact, the only thing your mouth is good for is being Vladimir Putin's cock holster." 
Colbert's comment was quickly blasted online, notably by alt-righters, who called for his dismissal with the #FireColbert hashtag spreading online. The host addressed the concerns on Wednesday night, admitting that he would "change a few words" in retrospect. 
"Now, I'm not going to repeat the phrase, but I just want to say for the record, life is short, and anyone who expresses their love for another person in their own way is to me an American hero," Colbert said. "And I think we can all agree on that. I hope even the president and I can agree on that. Nothing else. But that." 
According to the FCC's definition, a comment can be considered an obscenity if it "must appeal to an average person's prurient interest; depict or describe sexual conduct in a 'patently offensive' way; and, taken as a whole, lack serious literary, artistic, political or scientific value." 
For more on the controversy surrounding Colbert's remark, Mic's ongoing debate series Actually featured two writers — Matt McDermott and John Paul Brammer — debating the merits of the late night host's joke, and whether or not it deserves a pass. 
Mic has ongoing coverage of Stephen Colbert. Follow our main Colbert hub here.