Trump transition team warned Flynn about Russian contacts, report says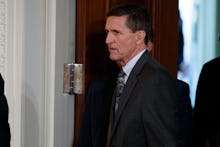 The top officials of President Donald Trump's transition team reportedly warned former national security adviser Michael Flynn about his contacts with the Russian ambassador Sergey Kislyak before his ousting, according to a report from the Washington Post. 
The report says that Flynn was warned about speaking with Kislyak before the two discussed the possibilities of the United States lifting its sanctions on Russia. Per the Post, officials had been so concerned that they requested the outgoing Obama administration provide them with a classified CIA profile of Kislyak, to help Flynn understand what Kislyak's motives might be. It was unclear whether Flynn had read the report. 
Perhaps most indicting, according to the AP, the Trump team's handling of classified information became an ongoing concern for the Obama administration after it was discovered that "highly sensitive documents from a secure room at the transition's Washington headquarters were being copied and removed from the facility." 
It was revealed in April that Flynn had been warned about not taking foreign money, but he had reportedly failed to disclose payments from Russia or Turkey during his security clearance application. Additionally, former acting attorney general Sally Yates will testify that she warned the White House about Flynn's potential involvement with Russia, and that he could've been compromised by Russian blackmail. 
The Flynn saga is part of an ongoing concern with whether the Trump campaign was involved with Russia. The country had been bent on interfering in the 2016 presidential election between Trump and Democratic candidate Hillary Clinton, according to federal authorities.