ABC has a deal in place to revive 'American Idol' as early as March 2018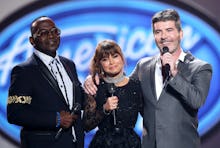 It might seem surprising now, but at its peak, American Idol was the number one show on television for several years running (and really, are we doing any better now with The Walking Dead?). So yes, several networks were bidding for the rights for an American Idol revival, and it appears that ABC won the race. 
According to Variety, the network has a deal in principle with FremantleMedia and Core Media Group. Assuming all goes well, the revival could return as early as March 2018. As Variety explains, it would be a big win for ABC, considering they're the only network that doesn't currently own any football rights, which is another consistent ratings powerhouse. 
What's less clear is who — if any — of the judges from the original run would return. Similarly, it's unclear if former host Ryan Seacrest, who recently netted a gig as the new cohost of Live With Kelly among his many, many jobs. There's also a logical issue for Seacrest: Live With Kelly is a New York-based show, while American Idol was traditionally filmed in Los Angeles when it wasn't going across the country in the early auditions.
According to the Hollywood Reporter, it's likely that ABC will make a formal announcement of the American Idol revival in May, during a presentation to ad buyers.  
In the meantime, people on Twitter seemed ambivalent about an American Idol revival, which is coming less than two years after the original, 15-year run ended. Also, one emotional plea for Seacrest to return.