Trump suggests funding historically black colleges may be unconstitutional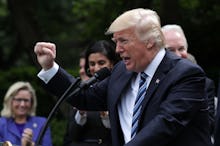 President Donald Trump signaled Friday that a 25-year-old federal program helping finance construction projects on historically black college campuses may be unconstitutional. 
In a statement released after signing the government spending bill that deterred a government shutdown, Trump wrote that the HBCU funding program is an example of a program "that allocate benefits on the basis of race, ethnicity and gender." He said his administration would make sure the provision is consistent with the equal protection of the laws under the Fifth Amendment. 
The program, created by Congress in 1992, allows the Department of Education to offer federally backed loans to HBCUs to construct new buildings. 
Trump's statement also asserted that the proposed budget "unconstitutionally" limited his executive authority to perform certain military actions and negotiate international agreements, among other limitations.
HBCU advocates expressed confusion at Trump's statement. 
Cheryl Smith, senior vice president of public policy and government affairs at the United Negro College Fund, said in a statement to Politico that she was "puzzled by this provision" and that she would seek clarification from the White House. 
According to Smith, the federal "HBCU" designation is not based on race, but on mission, accreditation status and the year the institution was established. 
Derek W. Black, a law professor at the University of South Carolina School of Law, told Politico that Trump's decision to call out the HBCU program was "rather odd." 
"If Congress is validly spending money on these programs, and there's no court finding or litigation suggesting discrimination, the idea that the executive would unilaterally not allocate those funds would be a rather momentous position to take," Black said.
Black also thought it was unusual that Trump's statement mentioned only race, ethnicity and gender. 
"Why stop here?" he asked. "If you're worried about the allocation of benefits in unfair ways, why not add other things like religion or disability?"