GOP lawmaker at town hall: "Nobody dies because they don't have access to health care"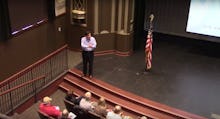 Sometimes, you really have to learn to read the room. 
In a town hall one day after congressional Republicans passed the American Health Care Act and celebrated with a couple of cold brewskies, U.S. Rep. Raul Labrador (R-Idaho) shut down the importance of health care at a town hall in Lewiston, Idaho, the Idaho Statesman reported. If passed in the Senate, the AHCA could strip 24 million Americans of their insurance.
After a woman in the audience said a person's lack of health care could cost someone their life, Labrador begged to differ. 
"That line is so indefensible," Labrador said. "Nobody dies because they don't have access to health care."
It turns out that Labrador is, of course, wrong. A 2009 Harvard University study found that, prior to the Affordable Care Act, lack of access to health insurance led to about 45,000 deaths annually.
People in the audience knew he was wrong too. Labrador's comment was met with a loud chorus of boos. 
On Thursday, Labrador was one of the GOP congressman who voted for the AHCA. In a statement to the Idaho Statesman, he said:
The people of Idaho know Obamacare is a disaster and want it fully repealed. Since I was first elected to Congress, I've been working to repeal Obamacare and that includes opposing the first version of the American Health Care Act.
The bill Labrador voted for tinkers with many of the mandates of the Affordable Care Act and could potentially allow health insurance carriers to charge people with pre-existing conditions as much as they want for health care.
In 2018, Labrador will see if he can still retrieve the votes of his constituents, who don't seem too happy about his statements or his vote.