Trump has been sued more than Obama, Bush and Clinton combined since taking office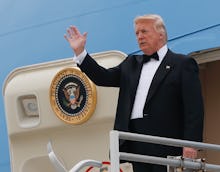 President Donald Trump has been sued 134 times in federal court since assuming the presidency in January, the Boston Globe reported Friday. 
That's nearly three times as many lawsuits as his three most recent predecessors combined, according to the Globe, and an average of more than one suit per day of his still-young presidency.
Trump's travel bans and businesses were among the subjects of the federal suits. One Massachusetts woman sued Trump because his presidency had caused her "loss of enjoyment of life," according to the Globe.
By comparison, Barack Obama had been sued 26 times; George W. Bush had been sued seven times and Bill Clinton had been sued 15 times by this point in their presidencies.
Trump is no stranger to litigation. 
He's been involved in more than 3,000 legal cases on one side or another — far more than any other president in U.S. history.
Trump has publicly promised a number of legal battles during his time in office — including a vow to see the court in, uh, well, court, after one of his travel bans was blocked.
On Friday, lawyers representing Trump requested that a federal judge throw out two cases filed by a Korean War veteran and a white supremacist, both of whom claim Trump "inspired" them to assault protesters at a campaign rally in Louisville. 
At that March 2016 rally, Trump instructed supporters to "get 'em out of here!" in reference to protesters. Three anti-Trump protesters filed a lawsuit saying they were injured while being ejected. A judge allowed that suit to proceed because it was "plausible" that Trump's words had led to the violence against the protesters.
"It is plausible that Trump's direction to 'get 'em out of here' advocated the use of force," Judge David J. Hale wrote in a decision. "It was an order, an instruction, a command."
On Friday, attorney Kent Westberry argued there "are not facts to suggest" Matthew Heimbach, the white supremacist, and Alvin Bamberger, the veteran, assaulted the protesters because of Trump.