Los Angeles City Council calls for Trump impeachment investigation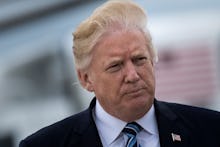 In a 10-0 vote Friday, the Los Angeles City Council passed a resolution to "support for any legislative action" investigating possible impeachable offenses committed by President Donald Trump.
The resolution is "not about any of his policies that I and many of us here find completely odious," City Council member Bob Blumenfield, a co-author of the measure, said before the measure passed, according to HuffPost. "This is about conflict of interest."
Los Angeles now joins Berkeley, Richmond and Alameda as California cities to pass Trump investigation resolutions. Cambridge, Massachusetts, and the small town of Charlotte, Vermont, have also passed resolutions calling for a Trump impeachment investigation. 
According to Blumenfield, Trump has "deeply troubling and potentially criminal" conflicts of interest that should "worry all Americans."
"We must demand that Congress use its power to investigate," Blumenfield said. "With this resolution, the city of Los Angeles calls on our Congress members and senators for the good of the country to investigate Trump's international finances and make sure that he is actually working on behalf of the American people and not his own pocketbook."