Puerto Rico closes 184 schools after filing for bankruptcy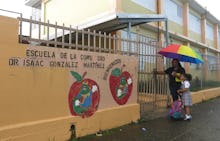 As a cost-cutting measure in an increasingly devastating debt crisis, Puerto Rico will close 184 public schools by the beginning of the next school year, the Los Angeles Times reported. The closures will affect around 27,000 students and 2,700 teachers on the U.S. territory. 
The announcement Friday came two days after Puerto Rico Gov. Ricardo Rossello announced the territory filed for a type of bankruptcy that will allow it to restructure its debt, currently upward of $70 billion. The debt has only grown worse as Puerto Rico's population flees the island in search of better-paying jobs on the U.S. mainland. 
This will be the largest school closure in the island's history. According to the Associated Press, between 2010 and 2015, Puerto Rico shuttered 150 schools, the Times reported. 
Arturo Porzecanski, an economist at American University in Washington, D.C., told the Times he favors the shutdowns, though they should be gradual.
"Government agencies should have been whittled down proportionally, and now this is all happening during one of the worst moments in Puerto Rico's history," he said.
Students attending closed schools will be shuffled to other districts, according to Julia Keleher, Puerto Rico's secretary of education. However, transportation from rural areas will be an issue. Teachers will face reassignment based on seniority. Administrative staff will also be relocated.
"We saw in this redesign a unique opportunity to improve the system in an inclusive, respectful and sensitive way," Keleher said. "It is our desire that the good quality of life that many of these students and the school community may be experiencing will not be upset."
Some teachers feel out of the loop about the logistics. 
"I'm concerned about what this means for my family," Belinda Plaza, an elementary school teacher at Jose Fernandez Rubial, which is slated to close, told the Times. "I haven't talked to the principal yet, but we are worried about whether we will have a job. We heard rumors before but this time it is really happening. We saw the list of schools that will close all over Facebook but no one spoke to me." 
Aleida Rivera, a first-grade teacher at Abraham Lincoln Elementary School in San Juan, said she is worried for special needs students, who will now jostle for attention among even more students. Rivera said she plans to move to Florida, where she can make a better income — more than the $1,750 per month she makes now.