Venezuela protests: Death toll rises to 37 after five weeks of anti-Maduro demonstrations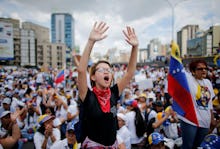 The death toll from Venezuela's continuing nationwide protests against President Nicolás Maduro has risen to at least 37, Reuters reported on Saturday. This comes after 20-year-old demonstrator Hecder Lugo was shot in the head Friday during clashes between opposition activists and security forces.
At least 717 others have been injured and 152 remain in jail as a result of the protests, which started in early April amid the Venezuelan Supreme Court's decision to assume the powers of Congress (which Maduro later partially walked back) and a continuing economic crisis. In late April, Venezuela withdrew from the Organization of American States over widespread concerns Maduro's government has degenerated into an authoritarian dictatorship.
According to Reuters, the past week has been marked by "violence and widespread looting" in the industrial hub of Valencia, while videos circulated of men destroying a statue of late Venezuelan leader Hugo Chávez in Zulia state. Polling shows Maduro's socialist government has become deeply unpopular as falling oil prices have triggered rampant inflation, a recession and shortages of virtually every necessary product. Maduro has responded to opposition control of Congress by proposing a constituent assembly to rewrite the constitution, which critics say is a thinly veiled power grab.
Opposition activists demand 2016 state elections delayed by the Maduro government be held, and the 2018 presidential vote moved forward.
Tens of thousands of women and others marched throughout the streets of Caracas on Saturday, shouting "we want elections!" and offering security forces, who occasionally attempted to intercede, roses, Reuters reported.
"Just let us vote, and this will all end," 22-year-old teacher Anlerisky Rosales told the news agency. "There is too much suffering in Venezuela. If we have to, we will give our lives in the street until Maduro goes."