Texas Republicans propose letting state-funded adoption agencies discriminate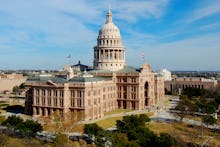 Adoption agencies in the state of Texas, including both state-funded and private entities, could soon reject potential parents based on their religion, sexual orientation and gender identity, courtesy of a Republican-backed state legislative proposal.
The Associated Press reported Saturday the legislation would make Texas the second state in the country to protect state-funded adoption agencies that discriminate against applicants for ostensibly religious reasons.
Such measures are popular with social conservatives who worry about the direction of society amid changes like the Supreme Court's legalization of same-sex marriage nationwide. But they've run into widespread opposition from critics who say they violate the equal protection clause of the Constitution and enshrine legalized discrimination.
This week, Alabama passed a similar law, but it does not apply to adoption agencies that receive state or federal funding. President Donald Trump also signed an executive order removing restrictions on political speech by religious organizations and providing "regulatory relief" to faith-based groups that want exemptions from covering health care services like contraception. The order immediately incurred threats of an ACLU lawsuit.
The Texas bill "would allow adoption agencies to turn away qualified, loving parents who are perhaps perfect in every way because the agency has a difference in religious belief," Human Rights Campaign senior legislative counsel Catherine Oakley told the AP. "This goes against the best interest of the child."
"As a governmental entity, Texas is bound to treat people equally under the law," she added. "This is a violation of equal protection under the law."
The law is expected to come up for debate as early as next week.