82 Chibok girls have been freed by Boko Haram after negotiations with Nigerian government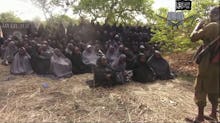 An additional 82 of the girls kidnapped from a boarding school in the town of Chibok, Nigeria, have been freed as a result of negotiations between the Nigerian government and infamous militant group and Islamic State affiliate Boko Haram, CNN reported Saturday, citing a government official.
Per CNN, the 82 girls were released and will be taken to Nigeria's capital city, Abuja, after which point they will receive medical attention and be reunited with their families.
"I am very, very excited with this development," Yana Galang, whose daughter Rifkatu was one of those abducted, told CNN. "I cannot even sleep tonight. ... I hope and pray that my daughter is among these released girls."
Of the original 276 abducted, up to 58 may have escaped Boko Haram and an additional 21 were released in October 2016, according to CNN, leaving an unknown number of survivors in the hands of the militants. The victims' plight drew international attention as well as an aggressive military response by the Nigerian government, which claimed in December 2016 to have rescued over 1,900 of its citizens from the group.
That month, government forces announced they had crushed the group's main base of operations in the northern Sambisa Forest, potentially eliminating most of Boko Haram's operational capabilities throughout the country. 
However, subsequent reports indicated that while the Nigerian military has liberated most of the territories controlled by Boko Haram, remaining factions of the group were still putting up stiff resistance and may be reinforced from the north by Islamic State forces coming from Libya.
In 2015, Boko Haram killed 11,000 people, according to the Council on Foreign Relations, making it the world's deadliest terror organization.