Nicki Minaj offering to pay tuition and student loans of followers on Twitter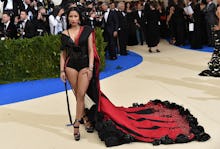 American college students and graduates know how outrageously expensive a college education can be, but a lucky few are now getting some financial help from an unlikely source: Nicki Minaj.
The hip-hop star took to Twitter on Saturday night to promote a contest for fans to win a trip to see Minaj at the Billboard Music Awards or in her studio. But when Twitter user @cjbydesign asked Minaj if she'd pay his tuition, a far more high-stakes giveaway began.
Minaj proceeded to reply to approximately 30 fans who reached out to her and asked for financial help with their education, ranging from a $400 textbook bill to thousands of dollars in student loans and tuition fees. International Business Times estimates Minaj — who is worth approximately $70 million, according to IB Times — pledged to donate about $20,000 in total. 
The hip-hop singer ended her long altruistic stretch by pledging to do it again in the future. It's clear that many could benefit from Minaj's help: The average 2016 college graduate, Student Loan Hero reported, graduated with $37,172 in student loan debt. 
And for some — such as Twitter user @PatJAGGER_ who reached out to Minaj for help but was not one of the ones chosen — that number is significantly higher.
Minaj isn't the only celebrity to use their success to help fans pay for their education, though. People noted that some celebrities, such as Beyoncé and Rihanna, have established scholarship funds to help students, while others, including Chrissy Teigen, Tyrese Gibson, Taylor Swift and Eddie Redmayne, have shown generosity toward individual fans.