Emmanuel Macron projected to win the French presidential election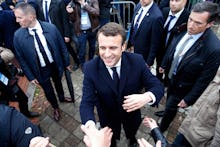 Emmanuel Macron is forecasted to win the French presidential election, according to early exit polls.
Polling stations closed at 8 p.m. local time, projecting the centrist former banker would win 65.1% of the vote to far-right National Front leader Marine Le Pen's 34.9%, the Guardian reported.
While Le Pen struck a more moderate tone than her father, National Front cofounder and Holocaust revisionist Jean-Marie Le Pen, her party still has historical roots in xenophobia and anti-Semitism. Le Pen's projected landslide loss is likely to reassure mainstream European political leaders that surging far-right nationalism, previously manifested most visibly in the surprise success of the U.K.'s referendum to leave the European Union, has hit its high-water mark — at least for now.
However, Macron was never a widely popular figure in French politics, and his victory is less a mandate for his particular brand of self-declared radical centrism than a firm rejection of Le Pen by French voters. The fact also remains that, by simply beating numerous other contenders to advance to the runoff and acquiring a significant percentage of the final vote, Le Pen has greatly expanded the National Front's influence in French politics.
If Macron's term in office falls flat, Le Pen and other outside contenders from this electoral season — like leftist Jean-Luc Mélenchon — will undoubtedly be ready to portray him as yet another failure of the status quo. So while Le Pen's opponents may be relieved, the existential threat to the survival of the republic they see in the National Front's rise is not yet over.
In the meantime, Macron's win will give breathing room to an E.U., whose future would be in doubt in a Le Pen presidency, and reinforce a resistance to dramatic changes to France's policies on free trade, immigration and the NATO alliance.
This is a breaking story and may be updated as more information becomes available.