18 Penn State fraternity members charged in hazing death of sophomore Timothy Piazza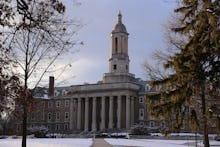 Eighteen members of the fraternity Beta Theta Pi fraternity's Penn State University chapter have been charged in the Feb. 4 hazing death of 19-year-old sophomore Timothy Piazza after a months-long grand jury hearing, the New York Times reported. 
After Piazza — who was pledging the fraternity at the time — was forced to drink large quantities of alcohol as a "hazing" activity and fell down stairs, the fraternity brothers reportedly left the sophomore unconscious and injured overnight without seeking help.
"The details in these findings are heart-wrenching and incomprehensible," university president Eric Barron said in a statement, as quoted by the New York Times. "No pain we feel can begin to compare to the devastating heartbreak that Timothy's family and friends are experiencing."
Fraternity members left an injured Piazza untreated for hours
The grand jury's investigation used surveillance footage from the fraternity house and text messages between the brothers to piece together the long night of drunken partying and negligence that led to Piazza's death. After going through a "gauntlet" of drinking stations as part of a pledge initiation activity, Piazza was spotted drunk and "hunched over," the grand jury's findings note. 
A text message revealed that the drunken 19-year-old then proceeded to fall down the fraternity's stairs. "Also, Tim Piazza might actually be a problem," a fraternity brother wrote in a group text, the Times reported. "He fell 15 feet down a flight of stairs, hair-first, going to need help."
After that, fraternity brothers reportedly moved the bruised and unconscious Piazza to a couch, the Times noted, where he remained for the rest of the night. They finally called 911 the next morning, Feb. 3, at 10:48 a.m.; he died in the hospital the next day.
In an interview with Good Morning America on Sunday, fraternity brother Kordel Davis said that the other Beta Theta Pi members refused to heed Davis' pleas to call for an ambulance earlier, telling Davis that he was "overreacting."
"I was told it was going to be handled their way," Davis said, according to ABC News. "I was told that they had the situation under control and that my help was not needed and that my opinions were not relevant and not needed. ... I was told it was all a myth, I was overreacting and I was crazy. .... They thought calling for help was just unnecessary."
"It just seemed to me that ... they just wanted to make sure that they themselves were safe, rather than Tim truly being safe," Davis continued.
Penn State's Greek life is now under increased scrutiny.
Eight students were charged with involuntary manslaughter and aggravated assault, while 10 others faced lesser charges, including reckless endangerment and hazing and evidence tampering. ABC News noted that while all fraternity members charged with involuntary manslaughter were arraigned on Friday, a few additional defendants will be arraigned early next week.
Beta Theta Pi's Penn State chapter itself was also charged with involuntary manslaughter, and the fraternity has since been barred from the university, the New York Times noted. Barron also imposed new regulations on Penn State's Greek life following Piazza's death.  
"The nature of those charges are incredibly disheartening as the organization and its membership continue to grieve Tim's passing and the pain experienced by his family," Beta Theta Pi International Fraternity said in a statement, according to ABC News. 
If found guilty, the fraternity brothers charged with involuntary manslaughter — which is a felony — could be sentenced to jail time, the New York Times reported.
The grand jury was quick to look beyond Beta Theta Pi when placing blame in their report, writing that Piazza's tragic death was the "direct fault" of Penn State's entire Greek community.
According to the Times, the report asserted that Penn State "nurtured an environment so permissive of excessive drinking and hazing that it emboldened its members to repeatedly act with reckless disregard to human life."