Jane Meyer wins "landmark" gender discrimination suit against University of Iowa athletics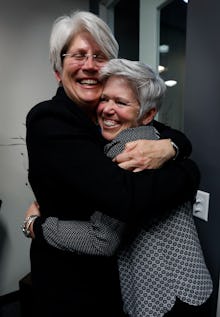 On Thursday, an Iowa jury awarded former University of Iowa senior associate athletic director Jane Meyer $1.43 million in a "landmark" victory on gender and sexual orientation discrimination.
According to the Des Moines Register, Meyer was the highest-ranking woman in Iowa's athletic department until 2014, when she said athletic director Gary Barta effectively edged her out of the position. According to the Register, Barta began sidelining Meyer when he was hired in 2006, gradually taking away some of her responsibilities and, in 2013, creating a "deputy" position that cannibalized much of her key duties. Nonetheless, Barta told Meyer she wasn't qualified for the post, offered the job to a man and gave him a salary that was $70,000 higher than Meyer's. 
At the same time, Barta fired Meyer's partner — Iowa field hockey coach Tracey Griesbaum — over an alleged "pattern of reports of abusive behavior toward her athletes." The university investigated but found no evidence of misconduct on Griesbaum's part. Meyer, who protested against the decision during a staff meeting, later made a comprehensive list of the sexist, gender-based discrimination she'd both seen and experienced in University of Iowa athletics. The next day, she found herself assigned to a different department at Barta's bidding. 
An eight-person jury composed of five women and three men awarded Meyer $374,000 in back pay, $444,000 for past emotional distress and a further $612,000 for future emotional distress, the Register reported. Meyer's lawyers also plan to ask the judge for an additional $2 million to cover legal fees and triple the amount of her back pay — the latter of which is permitted under Iowa law because "jurors found the university's actions were willful."
Following the verdict, Meyer maintained that her case was ultimately "very pro-Iowa." 
"My family are Iowa fans," she said, according to the Register. "This is about trying to make that university better. It's a matter of standing up to say, 'This is bigger, and we need the university to be better.'"
Meyer is right: Gender discrimination runs rampant in college athletics. Men greatly outnumber women in coaching positions, according to Excelle Sports, and are usually paid far better. As Forbes reported  in 2014, Duke University men's basketball coach Mike Krzyzewski makes roughly $9.2 million more per year than women's basketball coach Joanne McCallie, who earns around $729,991 annually. 
According to the New York Times, coaches for Division I men's teams between 2003 and 2010 enjoyed an average 67% salary increase, while coaches for Division I women's teams averaged raises of just 16%. That meant an average salary of roughly $267,000 for men compared to $98,000 for women. 
On top of Meyer's suit, the university will be required to address Griesbaum's grievances. ThinkProgress reported Griesbaum's field hockey players brought a Title IX suit against the school, while her own wrongful termination case goes to court on June 5.