Kim Hak-song: North Korea detains fourth US citizen amid nuclear tensions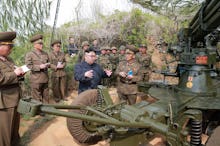 North Korean authorities detained U.S. citizen Kim Hak-song on Saturday, according to the state-run Korean Central News Agency, describing him as "a man who was doing business in relation to the operation of Pyongyang University of Science and Technology" who committed "hostile acts" against the government.
According to CNN, KCNA did not immediately release additional details on what Kim Hak-song is accused of doing, but he is the fourth U.S. citizen believed to be in the custody of North Korea's totalitarian government. Three others — Tony Kim, Otto Warmbier and Kim Dong Chul — have all been detained by the North Korean government for months to years.
Tensions on the Korean peninsula have heightened amid continuing North Korean missile tests and President Donald Trump's stated intent to follow a hardline approach to prevent the country's military from developing nuclear weapons capable of striking the United States. The U.S. has deployed multiple defense systems to the region, including ground-based and naval systems capable of shooting down missiles, while Trump recently pressured Chinese President Xi Jinping to attempt to reign in autocrat Kim Jong-un's military ambitions.
However, many residents in neighboring South Korea have remained calm, calling the ongoing tensions just more saber-rattling.