Texas Gov. Greg Abbott signs ban on sanctuary cities during unannounced Facebook Live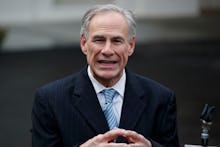 During an unannounced appearance on Facebook Live Sunday night, Texas Gov. Greg Abbott signed legislation formally banning "sanctuary cities" in his state.
Under the new law, police officers conducting routine traffic stops will be permitted to ask whether someone is in the U.S. legally, the Associated Press reported. Sheriffs who do not cooperate with federal immigration agents will face jail time, and local governments that block efforts to enforce the new policy could be fined up to $25,500 a day.
"Let's face it, the reason why so many people come to America is because we are a nation of laws," Abbott said, "and Texas is doing its part to keep it that way."
As NPR noted, Texas does not currently have any cities that have formally designate themselves safe havens for immigrants. Nevertheless, Abbott said that the bill — passed by a Republican-controlled legislature in Texas last week — was designed to crack down on "those that seek to promote lawlessness in Texas," according to the Washington Post.
Abbott had been expected to sign the law later this week, and immigration-rights activists had planned corresponding protests. But signing the legislation early and online caught dissenters by surprise, with Democrats like State Rep. César Blanco, who represents El Paso, blasting the move as "cowardly."
"Quite frankly I think it was a cowardly way to do it," Blanco said in an interview with the Post. "I think he wanted to get it done quickly with less friction."
"It's ironic that he does it on a Sunday when families are together and this legislation is only going to tear families apart," he added.
According to the AP, the new Texas law is the toughest bit of anti-immigrant legislation to be introduced in the U.S. since Arizona cracked down on its undocumented citizens in 2010. That law, S.B. 1070, required police to determine the immigration status of individuals they had arrested or detained whenever there was "reasonable suspicion" they were not in the U.S legally.
Although the U.S. Supreme Court later struck down several components of Arizona's law, the provision permitting police to ask about immigration status remained — a fact that Republican legislators in Texas seemed aware of when writing their own version of the bill.
Although the bill doesn't go into effect until Sept. 1., Terri Burke, executive director of the ACLU of Texas, vowed in an interview with the AP to "fight this assault in the courts" and in the voting booth.