The White House will attack Sally Yates as a partisan hack. Here's why that won't work.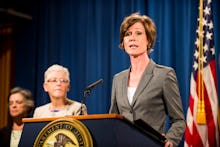 Former acting Attorney General Sally Yates will testify on Capitol Hill Monday. She is expected to tell a Senate committee about how she warned President Donald Trump's White House about former national security adviser Mike Flynn's contacts with a Russian diplomat before Trump chose to hire him as his national security adviser — contacts that ultimately led to Flynn's resignation. 
Because her testimony is likely to be embarrassing for the Trump administration, the White House is expected to try and discredit Yates by painting her as a "Democratic operative who was out to get Trump," according to a report from Axios.
It won't be an easy attack to make stick. Yates has a long history as a respected career prosecutor who has been praised by Republican lawmakers.
During her confirmation hearings to be deputy attorney general in 2015, both GOP senators from Yates' home state of Georgia issued glowing praise for her. Sen. Johnny Isakson (R-Ga.) said:
Sally is a great hero of the state of Georgia. For 25 years she's been in the office of northern district of Georgia prosecuting criminal[s] on public integrity, all kind of things, like the Olympic Park bombing. For the last five years, she's been the chief attorney, and she's proved herself over and over and over again to be effective, to be fair, to be diligent and to be the kind of person that you would want representing you in the U.S. Attorney's office.
Sen. David Perdue (R-Ga.) also spoke kindly of Yates and her history as a prosecutor.
For years, she has prosecuted the most violate criminal organizations in Georgia, MS-13, and other notorious gangs, drug cartels, human smuggling, sex traffickers. The people in Georgia were fortunate to have benefited from Ms. Yates's work in the service of justice for so many years.
Both Purdue and Isakson remain in office in the senate.
Yates also helped put former Atlanta Mayor Bill Campbell, a Democrat, behind bars for tax evasion.
Trump fired Yates in January, after she refused to defend his travel ban while she was serving as acting attorney general, saying in a letter to Justice Department lawyers that she was not "convinced that the executive order is lawful."