Why is 'River Monsters' ending? The reason season 9 is the end for host Jeremy Wade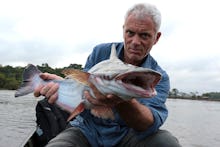 One of Animal Planets top-performing series, River Monsters, is coming to an end. 
The network announced in March that the ninth season of River Monsters, hosted by Jeremy Wade, would also be its last. The series, which premiered in 2009 and has taken Wade and audiences across the world, debuted its final season on April 23. 
"Jeremy has taken the Animal Planet audiences on the most incredible journeys over the past eight seasons and we know our viewers will miss those adventures," Patrice Andrews, the general manager of the network, said in a statement regarding the show's ending. He also promised to give the show a fitting farewell and teased upcoming specials to honor the series. 
The reason River Monsters is ending 
Although Wade loves River Monsters, it is apparently time for the show to come to an end. He admits that while filming they've run out of monsters to uncover and he's checked off a lot on his list. 
"Some shows can run forever, but our subject matter is finite. Ten years ago, I had a list in my head, which seemed impossibly ambitious at the time, but everything has now been ticked off — and then some. I have seen things beyond my wildest dreams, and sharing those moments with our loyal Animal Planet audiences has made them doubly special," Wade said in a press release. 
Harry Marshall, the Icon Films creative director, revealed that while this is the last season, Wade may have saved some of his most sought-after creatures for his goodbye. "We're excited about this final River Monsters season as Jeremy has saved the best until last," Marshall teased. 
The ninth season will include episodes on an unknown sea monster, alleged coral reef killers that are taking the lives of snorkelers in Indonesia and more mysterious creatures. 
Catch the final episodes of River Monsters on Animal Planet on Sundays at 9 p.m. Eastern. 
Mic has ongoing TV coverage. Please follow our main TV hub here.