Obama slammed the GOP's health care bill without ever mentioning Trump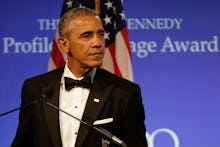 Former President Barack Obama defended the Affordable Care Act and sharply criticized President Donald Trump on Sunday night — all without ever mentioning his successor Donald Trump's name.
Obama was speaking at the John F. Kennedy Presidential Library and Museum in Boston on Sunday night, where he was accepting a Profile in Courage award from the institution. 
He told the crowd that, when it comes to the ongoing battle over health care that is raging in the nation's capital, he hopes that members of Congress "regardless of party, are willing to look at facts and speak the truth, even when it contradicts party positions," the New York Times reported on Sunday.
"It takes little courage to aid those who are already powerful, already comfortable, already influential, but it takes great courage to champion the vulnerable and the sick and the infirm," Obama said.
On Thursday, a Republican-led health care bill, the American Health Care Act, passed in Congress. The ACHA could undo many of the reforms of the ACA, and would kick an estimated 24 million Americans off their health insurance. 
Speaking on Sunday night, Obama defended the ACA, which the Times called his "signature domestic achievement," and praised lawmakers who voted for his health care reform even at the risk of their political careers, CNN reported.
"They had a chance to insure millions," Obama said. "This same vote would likely cost them their new seats and perhaps end their political careers. And these men and women did the right thing, the hard thing and theirs was a profile in courage."